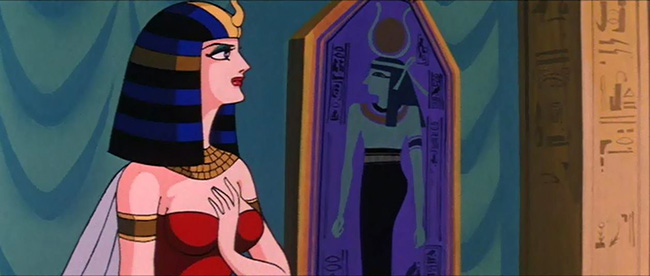 Osamu Tezuka's follow-up to the hugely ambitious A Thousand and One Nights (1969) was the second "Animerama" feature from his studio Mushi Productions: Cleopatra (1970). If anything, it was even more ambitious than its predecessor. It's another adult animated epic, but this time told with even more anachronisms and bizarre humor – including a non sequitur cameo from Tezuka's most famous creation, Astro-Boy. It feels like a movie that Tezuka made for himself, which both recommends it and acts as a warning. Cleopatra isn't a triumph, and it left Japanese and American audiences bemused. Instead it's best understood as a look inside Tezuka's sketchbook, a series of doodles that touch upon the history of Cleopatra but include digressions into science fiction, broad (and often tasteless) comedy, many homages to his influences and interests, whiplash stylistic breaks, and blunt sexuality. Tezuka's Mushi Productions, already flailing, took a big hit with the film's commercial failure. The third film in the Animerama series, Belladonna of Sadness (1973), would be released on a shoestring budget and without Tezuka's direct involvement (it would be solely directed by Eiichi Yamamoto, who co-directed Cleopatra and A Thousand and One Nights with Tezuka). There was still a future for adult animation in Japan – in fact, it would thrive there while never quite catching on in the United States – but it wouldn't follow the eccentric model presented in the late 60's and early 70's by one of their most influential creators of manga and anime.
The opening of the film takes place in the far-flung future, in a live action space station populated by live action actors in blue spacesuits and with crudely animated heads. It's ludicrous, it looks wretched, and it seems tailor-made for the accompaniment of hallucinogens. The characters talk about an imminent invasion from an alien race; you won't be paying attention to a word they're saying. According to Fred Patten at Cartoon Research, Tezuka claimed this was a deliberate joke, a parodic inversion of the Clutch Cargo/Space Angel/Captain Fathom "Syncro-Vox" shows of Cambria Studios. But it's an early sign of trouble that the humor doesn't register as intentional. Actually, the science fiction prologue and epilogue have nothing to do with the events of the story itself, and feel tacked on at the last moment, whether or not they actually were. Our astronauts will be projecting their minds back in time, occupying the bodies of characters in the age of Cleopatra – ostensibly to learn the background of a "Cleopatra" scheme employed in the future war. The time travel scene is humorous and imaginative, which is a more positive sign. Then we're launched into an extended historical epic featuring topless women, cartoon humor, abstract sex scenes, and straight-faced melodrama. None of these elements play nice with each other.
It's easy to make Cleopatra sound better than it is. In fact, the film is filled with inspired (or at least unexpected) moments – it's just that none of it meshes, and the story plods along with characters that don't sustain our interest; we're left just waiting for the next crazy little thing to pop up. And they do pop up frequently. Cleopatra, we learn, is actually an ugly prostitute with powerful vaginal muscles that can kill a man. An underground rebellion hatches a plan for this Cleopatra to seduce and kill Julius Caesar (who is portrayed with Martian-green skin). But first she must become beautiful – so she's taken down the Nile to a sorcerer who already has Frankenstein's monster lying on the slab when she arrives. The magician sculpts her a new face and body, shaping it like clay, making the breasts big, the waist small, the nose and chin pointy. Then she's folded up into a package to be secreted into Caesar's chamber. Caesar sees through the plot, but he also falls instantly in love with Cleopatra – and she eventually falls for him, neglecting her assassination scheme. She bears him a son, and…look, you won't care. What you are much more likely to remember is Cleopatra's parade (the film's highlight), which becomes a tribute to Botticelli's Venus, the Mona Lisa (topless), the can-can dancers and ballerinas of Degas, the flaming giraffes of Dalí, the abstract figures of Miró, and many more, in a playful sequence that dazzles with its variety of animated styles. (The can-can dancers are rotoscoped like the "Lucy in the Sky with Diamonds" number in Yellow Submarine; the ballerinas are presented as though the painting has come to life; etc.) The assassination of Julius Caesar is presented as kabuki theater – The Anime Encyclopedia by Jonathan Clements and Helen McCarthy indicates it is a parody of a scene in Chushingura, the story of the 47 Ronin. As with A Thousand and One Nights, the sex scenes are presented at a remove, becoming abstract sketches of erotic shapes slipping against one another, or collapsing and separating in a split-screen that somewhat suggests parting legs or bodies merging. The raincoat crowd will be disappointed by that, particularly because when Caesar joins Cleopatra in her bath, the lens seems to steam up, buttocks and breasts and caressing hands slip through the water, and it's quite evident that Tezuka's animators can pull off a more straightforward sensuality.
Tezuka wasn't interested in pornography, and Cleopatra isn't even remotely hentai. Nonetheless, when the film was released in America a couple years later, it was misleadingly retitled Cleopatra: Queen of Sex, as though it were an animated answer to "historical" erotic and porn movies of the era like The Notorious Cleopatra (1970). The real reason the film reached America was that Fritz the Cat (1972) was headed to theaters; Cleopatra: Queen of Sex arrived just a couple of weeks later. Fred Patten writes at Cartoon Research, "When Dr. Tezuka told me about this in 1979, he was still quivering in anger. When I told him that 1972 theater-goers had demanded their money back, he replied that he hoped that the American distributor had gone bankrupt!" Cleopatra was a flop on both shores, but in watching it today, Tezuka's lofty goals are apparent. With both this and his previous Animerama feature, it's more obvious now that he was testing the boundaries of feature length animation, experimenting enthusiastically; the end result was less important, perhaps, than the attempt to topple barriers in the medium. It's certainly a film of the early 70's, and much like Ralph Bakshi's early films, it explores – sketches, doodles – in directions without any sense of rules or restrictions. Cleopatra follows no template, which gives it a certain vitality, even though the experiment doesn't really come off: the "emotional" climax will likely leave you cold, and the futuristic epilogue is a big fat nothing. Instead we get a block of text explaining what ultimately happened in that war to save humanity from extermination. It's as though the budget simply ran out – and, given the state of Tezuka's Mushi Productions, it probably had. In three more years, after releasing some animated series and Belladonna of Sadness, Mushi would declare bankruptcy. Tezuka didn't linger to see the end; he left after a betrayal by one of his studio managers, Yoshinobu Nishizaki, who – Tezuka claimed – copyrighted Tezuka's ideas for the new series Triton of the Sea (1972) and Little Wansa (1973) under his own name rather than Tezuka's. Again, Fred Patten: "Dr. Tezuka told me that there was no copyright mixup. Nishizaki took Tezuka's name off of the copyright forms and substituted his own. He reasoned that everyone at Mushi except Tezuka knew that Cleopatra was going to be a failure; that Tezuka was showing less and less interest in Mushi Productions; and that Tezuka was unlikely to redevelop enough interest to fight Nishizaki to take the properties back. More significantly, Tezuka was aware that everyone at Mushi Prod. knew what had really happened, and that most of them didn't care. They considered that it was basically Tezuka's fault for letting his properties be stolen from under his nose. This is Dr. Tezuka's own view of what happened." So Cleopatra, although not the end of the Animerama experiments, became Tezuka's bitter swan song with his legendary studio.