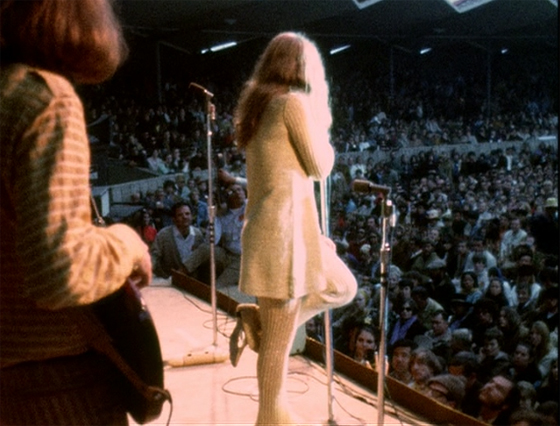 With Michael Wadleigh's Woodstock (1970) gradually transforming from an engrossing concert film to a Shoah-long historical document, I find myself increasingly valuing D. A. Pennebaker's Monterey Pop (1968). At just 79 (count 'em!) minutes, the great documentarian's compilation of the June 1967 Monterey International Pop Festival manages to capture the feel of a staggering, landmark 3-day rock concert without actually requiring the viewer to camp out in front of their big-screen TV hanging up tie-dyes and rationing the pot. Now, Pennebaker claims he was just making the most of an imperfect situation; in his 2002 introduction to Criterion's 3-disc DVD set, he apologetically states that they had a finite amount of film to shoot with, so the crew tried to limit themselves to one song per band (he also good-naturedly gripes that the Grateful Dead couldn't play a song under ten minutes; thus their exclusion).  The numerous outtake footage provided on those other 2 DVDs puts the lie to that claim, however; clearly there was some tasteful editing applied. The result is more of a sugar rush than an epic acid trip. He rockets from one act to the next, devoting equal time to loving close-ups of the rising stars onstage and the awestruck hippies in the audience.
You don't need sharp eyes to observe that those audience members are frequently other acts, spending their free time in rapt attention of their peers. My favorite moment of the film is during Big Brother and the Holding Company's lacerating performance of "Ball and Chain." While Janis Joplin freestyles her way through the blues in her The World is Ending Right Now, exploding-out-of-her-skin fashion, Pennebaker captures Mama Cass' gaping mouth. It's not hard to read her lips when she silently mouths WOW. Maybe she's heard Joplin sing before, but something cataclysmic is happening. Big Brother and the Holding Company is disappearing; Janis Joplin is arriving. So the question becomes, as a director and editor, do you show three, four, five hours' worth of performances, or do you show the moments that people need to remember, so there's no good excuse to miss Joplin skipping with joy while she leaves the stage after a fame-making set, or Jimi Hendrix setting fire to his guitar ritualistically, or Pete Townshend smashing his to pieces while Keith Moon's drum topples into plumes of smoke?
Pennebaker crystallizes each of these iconic performances with little, lingering details captured by his easily distracted camera. Joplin's foot, pounding at the stage while she remains firmly locked in place, like the gas pedal to her roaring vocals. A mesmerized hippie in the audience tapping her thighs to the rhythms of Canned Heat's "Rollin' and Tumblin'." Many beautiful stoned faces during Country Joe and the Fish's oozing, psychedelic "Section 43." And increasingly his images tend toward the abstract. Marty Balin's vocals dominate Jefferson Airplane's spellbinding "Today," but Pennebaker keeps his camera trained on Grace Slick's profile while she sings along; it seems like Balin's voice is eerily rising from her lips in an act of possession. With the white spotlight indirectly lighting her features, the image seems to become black-and-white. Similarly, when Otis Redding sings "I've Been Loving You Too Long," the camera crouches almost behind him, capturing, alternately, his face and microphone – and a blinding spotlight that turns the screen entirely white. You feel what it's like to be onstage, the audience invisible, singing for your life. An introduction to Eric Burdon and the Animals' cover of "Paint It, Black" begins in absolute darkness, while Burdon says, "It takes a few hours to get together, this one. But good things always do take a few hours to get together. I hope." Then, as a fiddle strikes through the darkness, Pennebaker hits us with rapid-fire, grainy close-ups of a woman's fingers, fingers touching mouth, tongue licking, eyes staring coldly forward. Apropos of nothing, really. Then back to the performance, and we see the fiddler onstage before the swimming and pulsating colors of your famous San Francisco liquid light show. Finally, for the first stretch of Ravi Shankar's almost twenty-minute-long raga, we don't even see the performers onstage, only the throngs watching, meditating, praying, working arts and crafts booths ("Free Rocks," reads a sign next to a dish of pebbles), handing out brochures for "Indian and Japanese Music." When we do focus on Ravi & Company, we get intense close-ups of fingers plucking sitar, hands beating tabla, and the intensely-concentrated faces of the players. (Pennebaker captures the telepathic communication between the players during the improvisation by cutting back and forth among their faces.) The juxtaposition is strangely moving. When the raga is complete, you understand the rapturous applause. You're connected to it. You're in your living room, and you're applauding, you fool. 79 minutes!