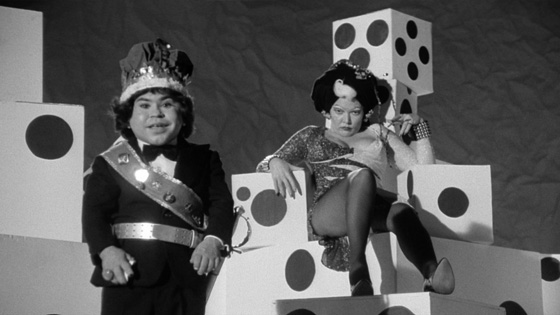 One day the Hercules family discovers that their tiny home in Venice, California, straddles a portal to the Sixth Dimension, a realm ruled by an evil Queen named Doris (Susan Tyrrell) and a King named Fausto (Hervé Villechaize), and populated by such bizarre inhabitants as the original Queen whom Doris replaced (Warhol Factory star Viva), a petulant and topless Princess (Gisele Lindley), twin boxers (performance art duo The Kipper Kids), a frog-headed servant straight out of Alice's Adventures in Wonderland (Jan Stuart Schwartz), and even Satan himself (Danny Elfman). One by one, the members of the Hercules clan – including the elderly, propeller-hatted Flash (Phil Gordon), long-bearded Grampa (Hyman Diamond), nerdy, chicken-walking Squeezit (Matthew Bright), and the heavily-accented, bathrobe-sporting Frenchy (Marie-Pascale Elfman), venture forth through their basement and deep into the Forbidden Zone – a passage which transforms them into animated characters delivered through an industrial intestinal track that finds the middle ground between Charlie Chaplin's Modern Times and Terry Gilliam's Monty Python shorts. There, they become entangled with the denizens of the Sixth Dimension, battling, dry-humping, and singing 20's, 30's, and 40's jazz and novelty tunes.
Forbidden Zone (1980), directed by Richard Elfman, is what you might consider a prefab midnight movie. But then again, so was Pink Flamingos. Elfman's film, like early John Waters, is designed for the outsiders and outcasts who would bring their own raucous energy to a late-night window into another dimension. Essentially it's the big-screen debut (and farewell performance) of the avant-garde musical stage show The Mystic Knights of the Oingo Boingo, formed in 1972 by Elfman and featuring vintage music performed with some 1970's outrageousness and shock value. Forbidden Zone sits on the fuzzy boundary between those stage shows and the project's future as a New Wave band fronted by Elfman's brother Danny, a musical virtuoso who would become one of cinema's most prominent composers thanks to his collaborations with another oddball, Tim Burton. The film, like their live performances, leans heavily upon music from the past, including performances of "The Yiddishe Charleston," "Bim Bam Boom" (an infuriatingly catchy ditty from 1942), and a rewrite of Cab Calloway's "Minnie the Moocher" with new lyrics by Danny, belting the song as Satan, with horns, a goatee, long streaks of eyeliner and a spiffy white suit. Much of the song's original music is in the New Wave category, including the title song and "Witch's Egg," sung by Tyrrell with breast-jiggling glee in a sequence that features animation, Tyrrell's real-life ex-boyfriend Villechaize smoking a cigar, and the Kipper Kids shaking their naked buns.
Tyrrell, who passed away on June 16th at age 67, occupies the center of this outré kingdom with confidence and glamor, displaying her garish makeup with pride. Tyrrell was always drawn to unusual projects – with her Eartha Kitt-style purr, she provided voices for Ralph Bakshi's lurid animated fantasies Wizards (1977) and Fire and Ice (1983), and appeared in John Huston's Fat City (1972), I Never Promised You a Rose Garden (1977), Paul Verhoeven's Flesh + Blood (1985), Tapeheads (1988), Big Top Pee-wee (1990), and Masked and Anonymous (2003). She's so…comfortable in this world of papier-mâché and cardboard and exhibitionism, as though she's finally found her home; on this viewing I kept thinking of Isabella Rossellini striding into the films of Guy Maddin on false legs filled with beer and the obvious joy of teaming with an auteur of kindred spirit. Richard Elfman's cinematic career never quite lived up to the promise of this debut, and his output has been sporadic over the decades, including the offbeat Severed Heads (1994) for Charles Band's Full Moon Pictures and Modern Vampires (1998). Both were written by Matthew Bright, the screenwriter of Forbidden Zone and a double-duty performer (as Squeezit and – in drag – his hideous twin René); he's perhaps best known as director of the compelling indie thriller Freeway (1996). But Forbidden Zone is clearly a collaborative effort amongst the members of the Mystic Knights of the Oingo Boingo – Richard's wife Marie-Pascale ("Frenchy") even designed the sets – and it has all the tawdry spectacle of performance art enacted for a tiny audience in a moldering building in a run-down corner of Los Angeles. It's Oingo Boingo's tribute to the unfiltered splendor and ugliness of Hollywood's suppressed past: a junkyard where tourists can glimpse the shoe-polish blackface, raunchy jazz numbers, Yiddish ditties, and sexy Max Fleischer-style cartoons that are no longer mainstream entertainment, but the stuff of midnight movie fever dreams.