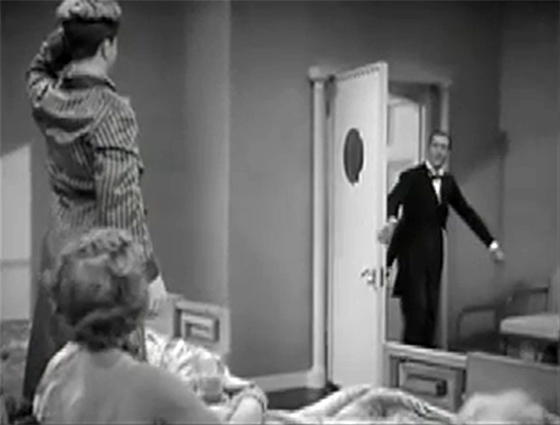 My memory isn't so great these days; and, anyway, memory plays tricks. Do I remember Remember Last Night? (1935)…let's see, it was a couple days ago, and I'll be damned if I can remember who actually did it in this whodunit. But I don't think I properly understood whodidit when they first told me. Director James Whale probably wouldn't mind. Remember Last Night? is a screwball comedy which borrows more than a little from The Thin Man (1934), the classic Dashiell Hammett adaptation that inspired multiple sequels and a loyal following. Instead of Nick & Nora Charles, married alcoholic sleuths, Whale – fresh off The Bride of Frankenstein (1935) – gives us Tony & Carlotta Milburn (Robert Young, Constance Cummings), frivolous socialites who only become crime-solving partners out of necessity: someone's been murdered after a wild party at their mansion, but none of the hungover partygoers can remember what happened. The film adapts a book called The Hangover Murders by Adam Hobhouse, and indeed anticipates The Hangover (2009) by a good seven decades. The mystery feels sketched-in and second-hand, and there are so many characters that most make no impression, therefore all revelations about the murder seem irrelevant; you didn't really know who the victim and the perpetrator were in the first place. It doesn't really matter. The point of Remember Last Night? is to deliver Depression-era audiences into luxurious mansions for a farce with decadent and carefree caricatures, like so many other screwball comedies of its day.
Its chief strengths are its nonstop wit – it would take a second viewing to catch all the gags in the Marx Brothers-style banter – and its stubborn refusal to be realistic. Whale acknowledges the artifice of the proceedings on multiple occasions. When our drunks see a ship on the horizon, it's obviously a prop on a stylized set. They prepare to fire a cannon at it, and Whale, with delirious absurdity, cuts to close-ups of sailors' faces, giving them a dramatic introduction, as though every character inhabiting this ship will be of vital importance; then the ship speeds away across the set like something in a Looney Tunes cartoon. He even has Carlotta reference The Bride of Frankenstein before she sees something that makes her scream, a visual reference to the most iconic moment of the same film. Elsewhere, a truck driver unleashes a rant strung together of elaborate working-class insults, then comments quietly to himself, "I feel better." These jokes all have quotation marks around them, like something out of Mel Brooks or a work of postmodernism – a reminder that modern comedies didn't invent everything. (On the other hand, a brief scene in which the partygoers don masks of blackface to perform racist impressions reminds the contemporary viewer that nothing is really "timeless.") Whale is more restrained here than in Bride, but he allows himself a few visual flourishes, such as the wild, hallucinatory party and a late scene in which a hypnotist arrives to help the suspects recall the previous night's events, the spiral of his spinning wheel casting a giant dizzying shadow on the wall and on Robert Young's face. Remember Last Night? isn't a lost classic, but those who've run out of Thin Man to watch, and prefer their detectives to be frivolous romantics and unapologetic alcoholics, should take a look.
Remember Last Night? was recently screened at the University of Wisconsin-Madison by Canadian director Guy Maddin (Brand Upon the Brain!, The Saddest Music in the World), mainly because he just wanted to see it again. He only dimly recalled the film, but remembered liking it. (As he apologetically stated in the post-film Q&A, he forgot about the blackface scene.) Trying to retrieve or reconstruct lost films was a major theme of a lecture he gave on campus, "Loss in the Cinema," so a film about memory loss, which Maddin himself couldn't quite remember, was an appropriate choice. I would suggest following Remember Last Night? with a chaser on the same topic, Somewhere in the Night (1946), which is a classic, albeit in a different decade and a different subgenre altogether. Joseph L. Mankiewicz (All About Eve) directs this gripping mystery which we would retroactively classify as noir. John Hodiak (Lifeboat) returns from the war an amnesiac. He is told his name is George Taylor, and among his few belongings is a note from a woman stating that she despises him and is ashamed for ever having loved him: "I shall pray for as long as I live for someone to hurt and destroy you." This is why we can call this film noir – it's bleak: a man finds himself trapped in the body of someone who is loathed and rejected at the start. He tells us in voiceover: "Who writes letters like this? Who do they write them to? Men they despise, whose memories they despise – the memory I haven't got!"
A detective investigating the mystery of himself, his trail leads him to a note from someone named Larry Cravat, who has deposited five thousand dollars in George Taylor's bank account. Searching for Cravat takes him deep into a criminal underworld and, ultimately, a race to uncover stolen loot. In this quest his only friends are Christy Smith (Nancy Guild), a Lauren Bacall-esque showgirl with a heart of gold, and club owner Mel Phillips (Richard Conte). Mankiewicz, who co-wrote the screenplay with Howard Dimsdale (none other than Lee Strasberg gets a credit for adaptation), reliably builds his films brick-solid. Unlike Remember Last Night?, you care about this mystery, because you sympathize with George Taylor, just as you believe his developing romance with girl-next-door Christy. There's also something irresistible about the amnesia subgenre. The answers are all within his head, if only he could unlock them. Increasingly George worries that he may not be the hero of the piece, but the villain; Hodiak is great in this role, and though he has scenes of stock hard-boiled banter, more often you can read the fear and anxiety on his features. He's a Little Boy Lost in a dangerous and cynical world. What if he is a scumbag, worthy of that anonymous rejection letter? What if he is a thief and a killer? In Remember Last Night?, we never seriously consider that Robert Young might have killed his houseguest, it's only a matter of how many jokes he and Constance Cummings have to crack before the real culprit is exposed. What makes Somewhere in the Night so effective is that it muddies the moral waters; Hodiak may be a good guy now, but perhaps he's nothing more than a criminal who's achieved innocence through the act of forgetting. Maybe our innocence is nothing but self-delusion, a trick of the mind, a trick of memory: this is the dark psychological territory that film noir, at its best, teases out into the light. Yet both of these films play with memory – or lack thereof – in clever ways, suggesting that sometimes the least reliable witness to a crime can be one's self.