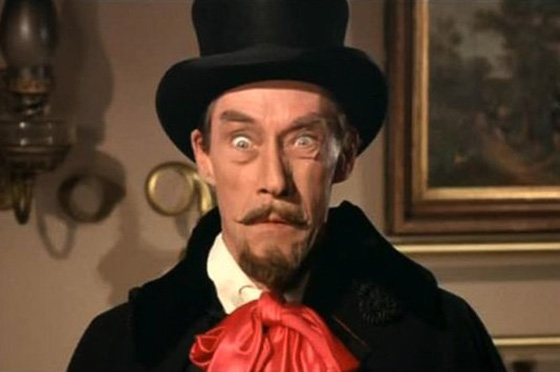 The title is irresistible. If Billy the Kid vs. Dracula (1966) is ultimately a let-down, well, perhaps it's because of the finale, in which Billy quick-draws on Dracula, and the bullets pass right through. Of course they do. And while Billy the Kid ponders whether he should have taken a different approach in his final battle with the king of all vampires, we're left to reassess our own expectations of this film. Were we hoping that Dracula would be packing heat too, and there would be a showdown on a dusty street? Instead we get a climax in which Billy throws his gun at Dracula, who immediately falls to the ground as though struck with holy water. This is not the stuff of which Wild West legends are made; but as another in the series of "Who would win in a fight?" films, in the tradition of Frankenstein Meets the Wolf Man (1943) and Mothra vs. Godzilla (1964), Billy the Kid vs. Dracula at least answers the question, which is perhaps all its young audience of 1966 wanted. Even if the answer is kind of lame. Dracula – who is never called such in the film, and frankly might be any ordinary vampire – is played by John Carradine, naturally, since the star had already appeared in Stagecoach (1939), to which this film pays brief homage in a stagecoach ride interrupted by an Indian raid, and House of Dracula (1945), where Carradine first played the Count. What other actor could simultaneously conjure the Old West and Gothic horror with his gaunt, humorless visage? Alas, by this stage in his career Carradine would appear in just about anything: The Wizard of Mars (1965), Hillbillys in a Haunted House (1967), Psycho a Go-Go (1967). He was teamed here with director William Beaudine, a prolific filmmaker whose career stretched back to the silent era, with films like the Bowery Boys' Spook Busters (1946) and Bela Lugosi Meets a Brooklyn Gorilla (1952) scattered in-between. It should be no surprise that the result is a product and little else. It fills 73 minutes of screen time. It was released on a double feature with Jesse James Meets Frankenstein's Daughter (1966, also by Beaudine). Tickets sold, mission accomplished.
William Bonney, aka Billy the Kid (Chuck Courtney, Rio Lobo), has put his violent past behind him, but is nonetheless keeping his engagement with beautiful Betty Bentley (Melinda Plowman, Peyton Place) secret. Their plan is thwarted by the arrival of her disapproving uncle, James Underhill, who locks Betty in her room on the authority of being her legal guardian, and throws Billy out of the Bentley cattle ranch. But Billy strongly suspects that "Underhill" isn't really her uncle, but a vampire impersonating the man. Her real uncle and aunt were in a stagecoach ambushed by Indians, and now only Billy and his tough-as-nails doctor, Henrietta (Olive Carey, The Alamo), can protect Betty, following the vampire folklore gleaned from an old German book Henrietta happens to have on the shelf of her doctor's office. After she reads him a passage, it's "Hey, thanks, Doc!" and Billy is off with his gun at his belt. But Underhill has a henchman: Billy's old rival, Dan Thorpe (Bing Russell, The Magnificent Seven), and even the local sheriff (Roy Barcroft) is willing to lock Billy up if need be, though it would pain him to do it. Meanwhile, no one seems to notice that when Underhill arrives at the local saloon, the Golden Star, it's as a bat flapping over the swinging doors. People in this sleepy town take life in stride.
So this is largely a Western. It's difficult to ascertain exactly what Dracula wants – like certain entries in the (far superior) Hammer series, his ambition seems oddly small-scale, here focusing upon seizing the Bentley cattle ranch and fixating on its silver mine, which we've already learned has been emptied of silver. Mostly, he openly lusts after the eighteen-year-old Betty Bentley. (In the stagecoach scene, Mary Bentley shows Carradine a picture of her daughter, and he practically drools over it. Mrs. Bentley doesn't seem bothered.) As a vampire, neither daylight nor day-for-night seems to affect him. Apart from the token bat-on-a-string, Gothic horror elements that are in place include absurd close-ups of Carradine in full-on mesmerism mode while a red spotlight illuminates his face, and quite a lot of to-do over maneuvering him in front of a mirror to prove he's a vampire: "The vampire test!" Henrietta enthuses. When at long last Carradine is captured in a mirror while carrying Betty in his arms, it's the one special effect shot in the entire film, and a fairly decent one: Betty suspended in mid-air. Horror fans should expect little else but Carradine's bulging eyes and black cape storming about ranch, saloon, and silver mine. (It also appears that the filmmakers don't know what real wolfsbane looks like.) This matinee film feels ten years too late, and nothing on display is thrilling or frightening or funny or particularly good, yet director Beaudine – somehow, barely – holds it all together with his ratty old lasso. Just make sure you take some of Dr. Henrietta's medicine first: a stiff, stiff drink.