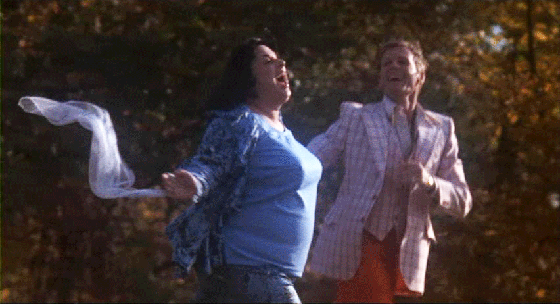 Following his "Trash Trilogy" of shock comedies Pink Flamingos (1972), Female Trouble (1974), and Desperate Living (1977), John Waters took his first steps toward mainstream acceptance with Polyester (1981), though not by altering his formula or personality. Once again Waters cast his gay, cross-dressing muse, Divine, in the starring role, and he also brought along the dazzling non-actress Edith Massey, who had appeared in four of his films so far, with her crooked teeth and roly poly frame. Polyester continued his method of high melodrama and higher camp amidst a surreal Baltimore landscape – but now he had a genuine film star, matinee idol Tab Hunter (Damn Yankees!), lending his cinema an additional patina of authenticity, and a theme song co-written by Blondie's Debbie Harry. Even Bill Murray contributed vocals to one of the film's songs, "The Best Thing," although apparently against Waters' wishes. "John was livid," wrote Polyester producer Robert Maier in his book Low Budget Hell: Making Underground Movies with John Waters. "John's humor was not doofusy like Bill Murray's. John was angry, gay, and shocking, and he didn't want it diluted." Waters eventually came to enjoy Murray's lounge singer treatment, but he was careful to protect his unique brand. He wanted a bigger audience, but a John Waters film had to remain a John Waters film at all costs. Still, evidence of a shift in perception came with the film's poster, boasting a Time pull-quote comparing Polyester to another notable comedy of the early 80's, Airplane! (1980). Surprisingly, Polyester, for all its outrageousness, fits rather comfortably alongside the rise of ZAZ (the Zucker brothers and Jim Abrahams, who would go on to Top Secret! and The Naked Gun) and the comedies being released by former SNL stars, such as Animal House (1978), Caddyshack (1980), Stripes (1981), National Lampoon's Vacation (1983), and Trading Places (1983). Certainly all those films are much more heterosexual (and, from time to time, casually sexist) – and they were probably anathema to Waters. But Polyester's non sequitur gags and cartoonish, anarchic satire are not that far removed from what was going on in comedy in the 70's and early 80's. That is, it's much easier to imagine a fan of the above films wandering into a screening of Polyester, Odorama card in hand, and enjoying the hell out of it: less so Female Trouble. No surprise, then, that the next stop for Waters was Hairspray (1988), which would become his most popular film. Strange times were ahead for the underground filmmaker from Baltimore.
That Odorama card, Waters' nod to William Castle gimmickry, is a big part of the film's appeal. Filmgoers are issued large scratch-and-sniff cards with ten pink, numbered circles. As explained by "Prominent Ear, Nose and Throat Specialist" Dr. Arnold Quackenshaw in the film's prologue, during the film a number will flash at the bottom-right corner of the screen, signaling the audience to scratch the appropriate circle. Odors run the gamut from the pleasant to the foul (my favorite is the smell of Tab Hunter's fabulous car). With only ten scents to disperse, Waters frequently teases the Odorama by referencing smells in the dialogue or just having Divine go sniffing the set like a hound on a fresh trail – what better way to hold the audience's attention for 90 minutes? So important are smells to Polyester that it becomes the method by which frustrated housewife Francine Fishpaw (Divine) experiences and interprets the suburban apocalypse around her. Tab's car smells inviting and new; her husband Elmer (David Samson) farts in bed. Whereas other suburban families might measure their success by wealth or possessions, Francine measures success by smell. Good smells, and, if necessary, a healthy application of air freshener, provide for a good quality of life.
Like any good Douglas Sirk drama, Francine must first pass through the trials provided by her suffocating domestic life. Husband Elmer owns an X-rated theater, and thus picketers and news cameras gather on the front lawn of their home. Promiscuous daughter Lu-Lu (Mary Garlington) hangs out with greaser and vandal Bo-Bo (Stiv Bators), and shows her indifference to Mother's advice by constantly dancing (badly). When she proudly announces she's pregnant, the distraught Francine suggests she do the right thing and marry Bo-Bo. "Marry him?" Lu-Lu scoffs. "I'm getting an abortion, and I can't wait!" Son Dexter (Ken King) is not just a foot fetishist, but secretly the Baltimore Stomper, stomping on the feet of innocent bystanders and sending them to the hospital. Francine's greedy mother La Rue (Joni Ruth White) can't keep her hands out of her daughter's purse. When Francine learns that her husband is having an affair with his secretary Sandra Sullivan (Waters regular Mink Stole), she finally goes off the deep end, plunging into alcoholism. Only her friend Cuddles (Massey), who has inherited a fortune and is always accompanied by her chauffeur Heintz (Hans Kramm), offers emotional support: "It's just these Baltimore public schools," she laments over Francine's dysfunctional children. "God I wish I lived in Connecticut!" But a lifeline comes in the form of hunky Todd Tomorrow (Hunter), who finds Francine sexy and exciting. Their meet cute is at the scene of a bloody car crash, with a decapitated head at their feet, but they only have eyes for each other. Things finally seem to be turning around: while Francine resumes a healthy sex life, her son is released from prison and becomes an artist (creating paintings and sculptures of feet), and her daughter, reformed at a convent, picks up macramé. Then Todd reveals what he's secretly after, and the family unit is threatened one last time.
Is Polyester mainstream? Not exactly, but the shock gags aren't quite as shocking as in Waters' previous films. A true test might have come when I watched the film at this year's Wisconsin Film Festival. Sitting next to me was a little old lady. I was concerned, perhaps due to latent emotional trauma from making the mistake of watching Serial Mom (1994) with my mother when I was in high school, and being mortified by the graphic violence and masturbation jokes. (For the record, my mom liked Hairspray, but she thought Serial Mom could have been cleaned up a bit.) Not only did this little old lady enthusiastically scratch off every number on her card, inhaling the aromas deeply (and multiple times), but she also started laughing about halfway through, at which point the laughs didn't stop. She loved it. Regardless, this is a film in which a man in drag kisses Tab Hunter, followed by a vigorous (but non-explicit) sex scene. It's also a movie in which a dog named Bonkers hangs itself after leaving a suicide note – and audiences of 1981 would have loved that joke. That Waters could retain Divine as his lead, foster a gay subtext (Hunter, too, is gay), and broadly decimate suburbia were all major pluses. John Waters was still John Waters. Not only that, Polyester helped make Divine a bigger star than ever – he was launching a recording career, and would even appear in a non-Waters film alongside Hunter, Lust in the Dust (1985). The underground was rising up.