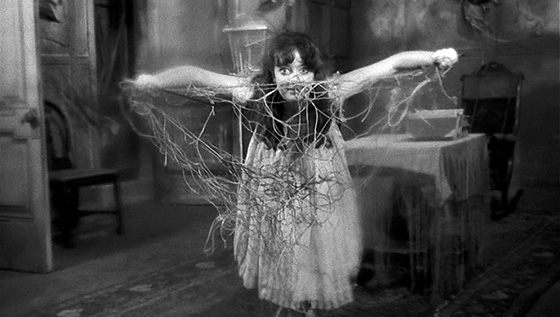 Jack Hill's infamous Spider Baby (1964) opens with one of the great whiplash moments in horror cinema. The opening titles feature smiling cartoon faces who look like they're about to invite you out to the lobby to buy a soda and popcorn. On the soundtrack Lon Chaney Jr. – veteran of so many Universal monster mashes of the 40's – sings "Cannibal spiders creep and crawl/Boys and ghouls having a ball/Frankenstein, Dracula, and even the Mummy/Are sure to end up in someone's tummy." Ronald Stein's lyrics are Dr. Demento-ready, but the only hint of what's to come is a queasy, lurching menace in the melody. Then we're in sunny California and Mantan Moreland, the black comic-relief actor from so many B-movies of the 30's and 40's, putters a little cart up the hill of the spooky Merrye House. Moreland was carrying more baggage than just mail parcels: he was associated with the Golden Age of Hollywood's stereotype of blacks as bug-eyed, weak-willed simpletons. By the 60's, Moreland was a relic of the past, and Sidney Poitier was opening doors toward the future; nonetheless, Moreland's appearance in this particular film, following juvenile spookshow credits, signals a certain type of picture. Moreland knocks upon the door and no one answers, so he leans through the window and its broken screen that's peeled back like a Venus flytrap. The storm window suddenly slams onto his neck. He's stuck. On the far side of the interior appears Virginia (Jill Banner) with two great knives in her hands. She squeals with joy. "I've caught a big fat bug right in my spiderweb," she says, extending a small net in her hands which she tosses over Moreland's head. "And now the spider gets to give the bug a big sting!" She slashes and slashes. We don't see the knives make contact, but we see his legs flailing in the air from outside. She keeps slicing away. A severed ear drops onto the floor. This is not the movie you thought you were watching.
It's not that Jack Hill – who would later direct the Pam Grier vehicles Coffy (1972) and Foxy Brown (1973) – is making some Bamboozled-like statement about African Americans in cinema (there is nothing else in the film which supports that reading). But Spider Baby is very much plugged into both the history and the future of the horror film. The prologue bids a bloody farewell to the monster romps that had been both Moreland's specialty (King of the Zombies, Revenge of the Zombies) and Lon Chaney Jr.'s. After Virginia's done her work and sister Elizabeth (Beverly Washburn, Pit Stop) chides her, Chaney arrives – the Wolf Man himself. By the early 60's, years of alcoholism had exaggerated his sympathetic, tragic features into a worn mask, with deep lines and sacks under his eyes, as though Lawrence Talbot never left him: he possessed him. As he sees Moreland's limp body hanging from the window, those features settle into place with exhaustion, resignation. "One time I leave them alone – and now this!" One of the brilliant things about Spider Baby is how the washed-up Chaney provides the film its heart and soul. But he's still the Wolf Man, and even the characters seem to know and love it: or at least a pair of straight-laced visitors, Ann Morris (Mary Mitchel, Dementia 13) and Peter Howe (Quinn Redeker, The Candidate). Over dinner she expresses admiration for the Universal monsters while pulling faces. Chaney obliges by slipping into his old shoes: "There's going to be a full moon tonight!" he intones with a smile. During a drunken drive to a hotel, Peter makes a slurred overture, "Hey, are you a Wolf Man fan Ann?" Clearly Jack Hill is. He fought to get Chaney into his picture, and the casting pays dividends. But this is also a film that references cannibalism and inbreeding. The threat of the spider's web at Merrye House is very real. There's a direct line from this film to Night of the Living Dead (1968) and The Texas Chain Saw Massacre (1974).
The inbred Merryes suffer from an affliction passed from generation to generation. Beginning at the age of ten, they begin to physically and mentally deteriorate. They regress to a childlike state, but also – evidently – become homicidal and cannibalistic. The Merrye girls, along with older and infantilized brother Ralph (Jack Hill regular Sid Haig), are the last of their line, cared for by family chauffeur Bruno (Chaney). Father is dead, but his decomposing corpse is still tucked in bed upstairs, in one of the film's many nods to Psycho (1960). Norman Bates seems to have decorated the Merrye House: taxidermy-preserved birds are nailed to the walls haphazardly – though that one owl perched on a pedestal is actually alive. True, Norman would have made it easier to peep on a girl undressing. Ralph has to dangle his head upside-down through the window to catch guest Emily Howe (Carol Ohmart, House on Haunted Hill) parading in her black lingerie. Emily and her brother Peter arrive at the house accompanied by the accurately named Mr. Schlocker (Karl Schanzer, Dementia 13) and his assistant Ann, all to claim rightful ownership of the Merrye family holdings – including the murderous children. The Howes are heirs from a different branch of the Merrye family tree, one with less inbreeding. At dinner, Emily wisely sticks to the food she's brought herself in a little plastic baggie, thus avoiding the cooked cat (which Peter thinks is rabbit) and a salad that looks like an entire tumbleweed. But Peter is game for anything, smiling and indulgent. While Mr. Schlocker is stabbed to death in the dark cellar and Emily is ravished by Ralph in the woods, Peter agrees to play "Spider" with the smitten Virginia. She covers him with her web and crawls seductively into his lap, as he finally gets a little uncomfortable. Then the knives come out. She loves playing with her "squiggly bug," so his "juice will taste better."
Chaney, as the makeshift patriarch, gives it his all. After he discovers the body of Mr. Schlocker, the girls are worried he'll be angry. Instead he puts his arms around them, tells them he could never be angry, and laments that he knew this day would come. Tears run down his cheeks. Then he has an epiphany, a solution – a new "toy" the girls can play with – and he runs off to get some dynamite. He's going to end the corrupt and diseased Merrye clan once and for all, an act of murder-suicide committed out of fatherly tenderness (and by a method straight out of a Road Runner cartoon, natch). Spider Baby is one delirious movie, but right at the center is Lon Chaney, giving his all. As Joe Dante points out in the documentary "The Hatching of Spider Baby," Chaney's performance is inexplicable given that the script in his hands was entitled Cannibal Orgy, or The Maddest Story Ever Told. But he's just as important to the film's success as the inspired performance by a 17-year-old Jill Banner as Virginia (she seems to really, really desire all her fat bugs). The U.K.'s Arrow Video, a boutique label specializing in horror and the outré, is making its U.S. debut this year with a number of Blu-Ray releases, including Spider Baby. It's the definitive presentation of the film, with an archive of supplements (including the aforementioned 2007 documentary from That Guy Dick Miller director Elijah Drenner). It's especially welcome because the film was never allowed to be the benchmark 60's horror film that it ought to have been. Spider Baby – or, rather, Cannibal Orgy – was filmed in 1964 but not released until 1968 (and then only briefly), because the film's producers, whose money was in real estate, were battling bankruptcy and litigation amidst the bursting of a Los Angeles housing bubble. The film was almost impossible to see until the 90's, and in 1999 Hill discovered his original director's cut, which was restored for DVD and is the source for the new Blu-Ray. Spider Baby is creepy, funny, over-the-top, and strangely touching, a mash-up of all things horror while gently closing the coffin lid on horror's dusty past.