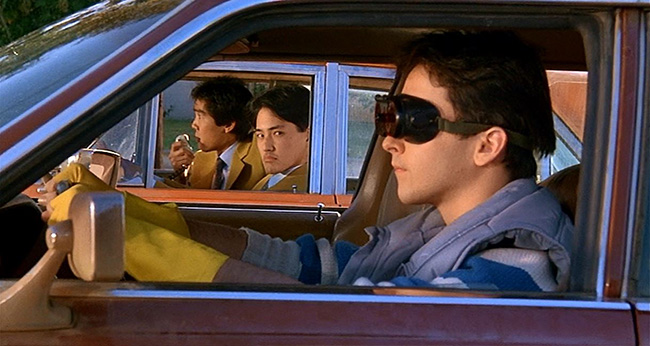 "Merci buckets."
Better Off Dead (1985) occupies an isolated spot in the pantheon of 80's teen comedies. On the one hand, it contains all the expected elements: a mixtape soundtrack of synth-laden pop songs; a high school in suburbia staged as a battleground of cliques; a teen protagonist with talent, sarcasm, and angst to spare; the popular girl he longs to hook up with; the quirky girl right under his nose who happens to have a crush on him; out-of-touch parents; a high school dance; and a climactic athletic event, in this case involving skiing. Writer/director Savage Steve Holland, a young animator who had previously worked on the Whammies for the notorious game show "Press Your Luck," balloons each of these elements into absurd proportions. In the manner of Airplane! (1980), he turns it into a live action cartoon. But somehow he manages to send up all the John Hughes tropes while staying true to the earnestness the made them click in the first place. Even after having watched this movie dozens of times – it was a staple of mine as a kid – I'm still impressed by how cool the movie is. The formula unfortunately crashes in Holland's immediate follow-up, 1986's One Crazy Summer (it still has its fans), but in Better Off Dead he perfectly sustains a balance of surreal comedy and teenage sincerity for ninety minutes.
It helps that, like Hughes, Holland's outlook is plugged into the mind of a teenage outcast. The numerous surreal digressions of Better Off Dead are, for all intents and purposes, "real"; but they are also how its protagonist sees the world: bizarre and fraught. Lane Myer (John Cusack, who appeared in Rob Reiner's The Sure Thing the same year) is obsessed with his pretty blonde girlfriend Beth (Amanda Wyss, A Nightmare on Elm Street), to the extent of plastering photos of her all over his bedroom walls, even using cut-outs of her head to adorn the coat hangers in his walk-in closet. So at the start of the film, we are not exactly sure that Lane isn't a serial killer. His parents are also concerned, but Mom (Kim Darby, Don't Be Afraid of the Dark) is too distracted with developing her (disastrous) cooking skills, and Dad (David Ogden Stiers, M*A*S*H) is fighting to protect his garage door windows from being smashed in by a psychotic and vengeful paperboy. When Beth breaks up with Lane so she can hook up with handsome skier Roy Stalin (Aaron Dozier), Lane spirals into depression and botched suicide attempts. But always ready to offer advice is his friend Charles De Mar (Curtis Armstrong, Revenge of the Nerds), who dresses like a Dickens character and nurses an illicit drug habit stifled only by the neighborhood's complete lack of illicit drugs. At a high school dance he meets French exchange student Monique (Diane Franklin, Amityville II: The Possession), who's staying with – and being smothered by – Lane's next-door neighbor, mama's boy Ricky (Dan Schneider, Hot Resort). Though Lane is still determined to win Beth back, he's smitten by Monique, especially when she repairs his prized Camaro, proving herself a skilled mechanic. All of Lane's problems are embodied by the K-12, a mountain with a fearsome ski slope, mastered only by his rival Stalin; and so the climax involves Lane proving his skills against Stalin, with the adoration of the fickle Beth at stake.
Obviously, it's not the plot which makes this film special. The reason Better Off Dead has become such a popular cult film is its many non sequitur gags, which hit more often than they miss. On the suburban streets Lane drag races with two Japanese men, one whom learned English by listening to Howard Cosell and narrates the action through a loudspeaker (the voice is by Rich Little). A geometry class is filled with students all too eager for more homework, or to volunteer to produce complicated equations at the blackboard; when the teacher (the always-great Vincent Schiavelli, of One Flew Over the Cuckoo's Nest and the X-Files episode Humbug) has a private word with Lane, it's not to criticize his lack of initiative, but to ask if it would be alright if he asked out Beth. (Later, Barney Rubble interrupts The Flintstones to ask Lane the same question.) Mom's cooking becomes increasingly Lovecraftian with each new meal. One slime mold crawls across the table after Lane pokes it with a fork; and later she's working with a pot of flailing tentacles. But most will remember the paperboy, who begins pursuing Lane with the same threat, always repeated: "I want my two dollars." It's important to note that the ski match on the K-12 (whose name seems to invoke the perilous mountain that is the educational system) has an extra layer of tension with the paperboy always in pursuit, his ubiquitous bicycle now outfitted with skis.
One of the strangest digressions is Lane's daydream while working at Pig Burgers, whose motto is "Everybody Wants Some" (featured on the restaurant's explicitly erotic poster). Lane becomes Dr. Frankenstein, and a flash of lightning brings the burger to stop-motion animated life. This leads to a (brief) music video for Van Halen's "Everybody Wants Some," the burger watching female french fries skinny-dip in a deep fryer. In another animated scene, Lane – a cartoonist, like a young version of Holland himself – watches his sketch of Beth and Stalin come to life to criticize him. There's a touch of Annie Hall to the moment. Even as we become invested in the budding relationship between Lane and Monique (perhaps against our better judgment – but Diane Franklin has never been more adorable), Holland is reminding us that it's all just a ridiculous movie. When Lane stands up to Stalin in the cafeteria and challenges him to the K-12, the speakers of the school PA immediately announce the contest. Very little is left unparodied. But it's to Holland's credit that he allows Lane to start falling for Monique right away. The Nice Girl has no glasses to remove dramatically, no long hair to let down from a bun. The two never even have the clichéd falling-out. When Lane wins the K-12 and Beth kisses him on the lips, he immediately sprints after Monique (and has a sword fight with Ricky conducted with ski poles). Better Off Dead might have one foot in the Kentucky Fried Movie, but its heart, and its Hughes-styled sympathy for being a young adult in suburbia, is what makes it so endearing, and such an essential part of 80's teen movie canon.