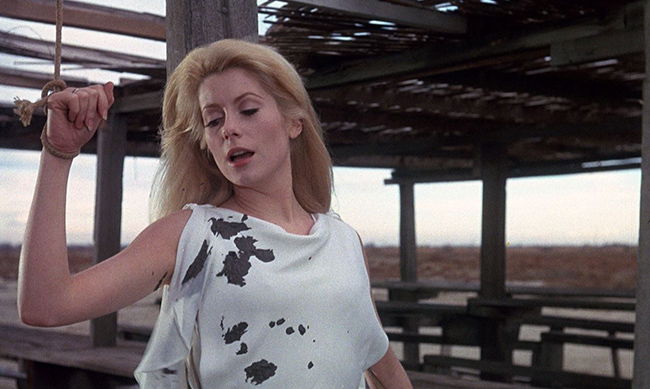 This post is a proud part of the Criterion Blogathon sponsored by Criterion Blues, Speakeasy, and Silver Screenings. Check out the full list of participating blogs. Also – my thoughts are with Parisians today in solidarity and support (#Parisisaboutlife).
Catherine Deneuve is well covered – she's wearing a bright red coat, as fashionable and colorful as something she might sport in one of her Jacques Demy roles – but she's lying on her back in a Parisian brothel, a young man who is not her husband lying on top of her and stroking her face. The weasel-faced, golden-toothed young gangster, Marcel (Pierre Clémenti, The Conformist), has fallen in love with Deneuve's Séverine, and he's prodding her for more information on her husband. "You love the other guy?" he asks. She nods. "Then why are you here?"
"I don't know," she says. "They're two different things."
Those two different things are not so much at war as transposed, like two colors that shouldn't, logically, produce a more pleasing third. But it's so, and Séverine is content. She is a well-off housewife attached to a handsome hospital worker, Pierre (Jean Sorel, Short Night of Glass Dolls), but they sleep in separate beds, and she refuses him when he tries to bridge that divide – with a gentle "Forgive me." Something mysterious draws her to the brothel of Madame Anaïs (Geneviève Page, Grand Prix), located in a nondescript building in the middle of Paris, but once her particular desires – which happen to be strongly masochistic – are untangled and let loose, she is happy. Happy in a more genuine way than what she expresses to Pierre at the film's opening. If it were up to her, she would spend every afternoon at the brothel, and every evening with her husband, serene and wholly satisfied. Director Luis Buñuel has no issue with the contradiction. For a surrealist, contradiction is the color of life. In one of the film's most disorienting shots, he overlays the vivid world of Séverine's dreams with that of her everyday world, panning up and down simultaneously, holding the shot as long as he can as though trying to test the limits before something the film breaks. Your eyes don't know where to settle; you're pulled in two. But this is Séverine's existence, and it's also, like everything in Belle de Jour (1967), a convincing argument of the surrealistic nature of human desire.
The opening of the film is startling: Séverine and Pierre gliding through a forest on a carriage, bells jingling on the soundtrack as the drivers urge their horses on, and suddenly they come to a halt; Pierre has the drivers gag her and haul her off into the trees, where they expose her back and brutally whip her. She cries, apropos of nothing, "Pierre, please don't let the cats out!" And for a flash we see a look of ecstasy on her face. It is one of the film's many dreams, which are treated in the Buñuelian style – without any overt cues to signal that we are entering or exiting the unreal; no dissolves, no fog machines. But reality itself occasionally slips toward the fantastic, like that mysterious buzzing box, presented by one of Séverine's clients. Buñuel disagreed with his co-screenwriter, Jean-Claude Carrière (Diary of a Chambermaid), as to whether one particular sequence was real or a dream, the escapade in which Séverine is asked to climb into a coffin and pose as a duke's dead daughter, with all its overtones of incest and necrophilia. Carrière believed it to be a dream; Buñuel insisted it was real. (Certainly it fits right in with similar "real" moments elsewhere in Buñuel's filmography, such as 1961's Viridiana.) Yet throughout the film Buñuel asks you to treat every moment as equal to every other. Séverine has a maid at the brothel and a maid in her home. She plays tennis, she goes to lunch with her friends, she dreams of being tied to a tree with the sound of waves on the soundtrack, like Odysseus tempting himself with the Sirens. Are some of these (a molestation; her refusal to take the host at Mass) really flashbacks to Séverine's childhood, or imagined? Does it matter? They exist in her mind, and they're part of her. Does she really walk up those steps to the brothel, or is the entire film an elaborate fantasy? Does it matter? It's all Séverine.
And Belle de Jour is, more than anything else, a bemused character portrait. Based on a scandalous 1928 novel by Joseph Kessel, the story is expanded and enriched in its transformation into a Buñuel film. Buñuel's key contribution was entrenching the perspective in Séverine's psyche, introducing her elaborate fantasies in substitution of explicit sex under the sheets. Perhaps producers Raymond and Robert Hakim, who had a reputation for seeking out salacious material, were disappointed that the brothel scenes, filmed with the surrealist's eye, are less focused on female flesh than the peculiarities of various kinks. Buñuel, mischievous as ever, made the producers unwitting participants in the film's robbery scene, as John Baxter notes in his biography Buñuel (1994): "Luis needled them by having Marcel and Hippolyte steal the payroll from 79 Champs-Elysées, the Hakims' own office." Belle de Jour endures not because of its sexual content, but because of its refusal to condemn the sexual indiscretions of its very complicated female protagonist. Instead, the film watches with great empathy as Deneuve, with all her frosty beauty, commits herself to her new secret life. Her moment of crucial decision ranks among the most Hitchcockian scenes of the director's career, as Buñuel studies her feet as they climb the stairs, twist briefly on a landing – a moment of hesitation – and then confidently climb on. (In another life, Buñuel might have rivaled Hitchcock in channeling his fetishes and neuroses into obsessive thrillers. For more evidence, check out Buñuel's 1955 black comedy The Criminal Life of Archibaldo de la Cruz.) Once Séverine is inside the door, her transformation is not an easy one. She refuses the rough advances of her first client, the wealthy candy manufacturer Monsieur Adolphe (Francis Blanche), until Madame Anaïs, turning off the charm, demands that she do her job. With fascination Séverine spies through a peephole at a professor (Marcel Charvey) who wants to be dominated and abused. By the time she is matched with an Asian businessman (Iska Khan) who speaks no English and urges her to look into the little box he carries around – and we hear only a strange buzzing noise – she is a more confident woman, taking pleasure in her work. Afterwards, she is stretched out on the bed. The maid, Pallas (played by Muni, a Buñuel regular after Diary of a Chambermaid), comes upon her and glimpses bloodstains on a towel. A sign of violence, it's also as though she's lost her virginity a second time. "That man frightens me," Pallas says. "It must be hard sometimes." Deneuve's mussed hair shifts as she turns her head, and suddenly we see that she's smiling with contentment: "What do you know about it, Pallas?" The signature moment became the film's poster, adorns the StudioCanal Luis Buñuel Collection box set and, rendered by fashion illustrator David Downton, Criterion's Blu-Ray cover art. Séverine has been violated in unspeakable ways (and unknowable ways – not even the director knew what the hell was in that box) – and she loved every minute of it. Less so Deneuve, who, by all accounts, was a bit baffled, if not troubled, by the production; yet she came to embrace Belle de Jour as one of her best films.
On the Criterion disc, scholar Linda Williams and author Susie Bright explain why the film has been such a fixture of feminist studies since its release, digging into its portrait of a woman who finds sexual release through pain and degradation. As they point out, the contradictory notes of female masochism (in particular the complications of taking pleasure in a submissive role, when women are traditionally expected to be submissive) are well suited to surrealism, in which contradictions are the key ingredient. And Carrière, interviewed on the same disc, insists the fantasy sequences were largely provided by the women with whom he and Buñuel spoke while writing the screenplay – their subjects included prostitutes and psychoanalysts. This open-minded approach is vital to both the artistic and commercial success of Belle de Jour (it was one of the director's biggest hits). For decades Buñuel had been expressing (and mocking) his own sexual fantasies, but with Belle de Jour he allows Séverine to tell her own story and doesn't pass judgment. He replaces the reportedly melodramatic climax of the original novel with an ambiguous alternative that embraces all the contradictions of its main character, as cold reality and escapist fantasy merge both visually and aurally, with the carriage bells jingling on the soundtrack. In the collision, she exists in a state of the real and the unreal, like a Buñuelian take on Schrödinger's cat. ("Should I let the cats in?" says a butler at one point, a dream callback in one moment that's supposed to not be a dream, the director insisted. Off in the distant prologue, Deneuve still shouts, "Please don't let the cats out!") Belle de Jour reminds us that we are all made of oppositions. But Buñuel is indifferent, and only watches as we chase our dangerous dreams.