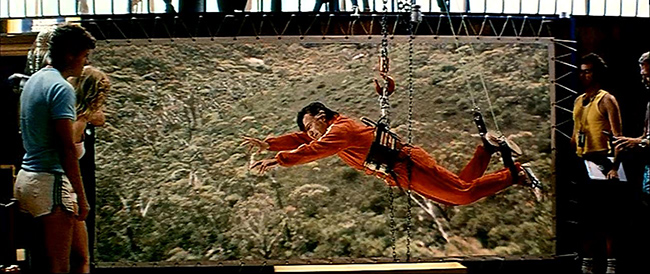 The Return of Captain Invincible (1983) looks fantastic in the blueprints. After celebrity success in the 40's, a superhero, Captain Invincible, is brought before McCarthy's Senate Subcommittee and accused of being a Commie; disillusioned with his country, he goes into exile in Australia and becomes an alcoholic. Decades later, he's asked to suit up again when his old enemy Mr. Midnight steals a Hypno-Ray. Captain Invincible would be played by beloved character actor Alan Arkin (The Rocketeer, Little Miss Sunshine). Mr. Midnight would be played by Christopher Lee. To top it off, the film would be a musical, with a script co-written by Stephen E. de Souza (Die Hard) and songs contributed by, among others, Richard O'Brien and Richard Hartley of The Rocky Horror Picture Show (1975). What could go wrong? Well…just about everything. Australian-based director Philippe Mora, who had previously helmed The Beast Within (1982), piles on one bit of outré madness after another (particularly whenever Lee is on set), and has a comic sensibility pitched somewhere between MAD Magazine and the National Lampoon. So the film is lively. But it's also a jaw-dropping mess, made watchable largely because of how game Arkin and Lee are – and because Mora keeps throwing outrageous, belly-flopping gags at you so quickly that you just can't look away from the screen.
To its credit, the long prologue is note-perfect, and promises a more focused satire. A worn old black-and-white newsreel, "News on the March," brings us up to speed on Captain Invincible's history: we see him battle gangsters, bring down the Luftwaffe in WWII (a stiffly grinning Arkin stands between a plane's prop and some rear projection footage, then grabs the spinning propeller with no change in expression), take a PR trip to see some boy scouts, and finally appear in the McCarthy hearings, where he's accused of disloyalty to America. ("I notice you have a red cape. What made you pick that particular color?") Captain Invincible subsequently vanishes, and the film switches to color and widescreen. You wait for a Rocky Horror-style musical number to break out. You keep waiting. It's the first warning sign that this film doesn't quite have a firm grasp on its material after all. Mr. Midnight hatches an elaborate, confusing, chaotically edited scheme (at one point, dog poop distributed from a mechanical dog house is involved), while he briefly sings some opera. In a Dr. Strangelove-like War Room, we meet the American President (Michael Pate, of Mora's Mad Dog Morgan), who sings the first song, "Bullshit." The lyrics are "Bullshit, bullshit, bullshit, bullshit." Then he breaks into a slightly better song, "We Need a Hero," a gospel number. Both were written by Brad Love of the band Aviary. In fact, O'Brien and Hartley only wrote three of the film's nine songs – which is a missed opportunity given that theirs are the only ones that leave a lasting impression. The other songs appear to have been conceived as parodies of different American songwriting styles – country ballad, female singer/songwriter pop – but they play too straightforward to be amusing or interesting. Although one of the few genuinely funny moments comes when Arkin abruptly stops a sappy love song by jerking a needle off a record, revealing that the singer has been lip syncing: "I knew it!"
Lee was proud of the film because it finally gave him a chance to show he could sing. (He wanted to have a singing role in the 1962 Phantom of the Opera – a rare occasion of Hammer turning Lee down.) He's excellent in the film as Mr. Midnight, even though he's teamed with a Muppet henchman called Julius who looks like he's wandered in from The Dark Crystal. One of the stranger running gags in the film involves his secret lair's menagerie, including a toad, which he later feeds to a snake, which he later feeds to a puppet vulture. Finally, he roasts the vulture for a Thanksgiving dinner. He's also accompanied by a Maitre D' (Chris Haywood), who speaks entirely in French gibberish and can't stop pursuing Lee's many female assistants, Benny Hill-style. When Lee sings, he's accompanied by dancers in the black lipstick and torn leotards of so many early MTV videos – but he's clearly having a good time. (Lee would later make heavy metal records, and posthumously appeared on this year's Hollywood Vampires album.) Arkin, meanwhile, is performing more traditional movie-musical bits, which are staged bereft of imagination. One sleepy number is performed while he flies in front of a blue screen, his companion, Australian cop Patty (Kate Fitzpatrick), sitting on top of him. It's telling that the best song in the film comes halfway through the ending credits: "Captain Invincible," performed by Richard O'Brien. Most of the audience won't be watching by that point.
The set-up of American comic book patriotism giving way to post-McCarthy, post-Watergate cynicism reminds of Alan Moore's deconstructions of the superhero myth, Watchmen and Marvelman/Miracleman, and it's a rich area for the film to mine. In an early song, Arkin laments that the world isn't so black-and-white anymore. But the film provides nothing to support that point of view. Mr. Midnight is still plotting to overthrow a world just as cartoonish as any Golden Age D.C. comic book. Introducing the present-day Captain Invincible as an alcoholic bum promises a satirical edge that's quickly abandoned in favor of jokes that would have been rejected from the 60's Batman show. In place of satire is the risqué – some female nudity (which would be an automatic R today; the film is PG) and lots of sex jokes, including a flashback to the Captain's origin, as his parents' intercourse is interrupted by a beam projected by a hovering flying saucer and some excited aliens. The woman then gives birth to a young Captain Invincible, a baby first seen sitting on the ceiling and delivering his catchphrase, "Into the blue!" The fact that a confrontation in a deli leads to an extended food fight is a good indication of the film's level of comedy. An endless battle with animated vacuum cleaners ends with the line, "No wonder nature abhors a vacuum." A bit better is a moment which could have come from The Kentucky Fried Movie: as Arkin approaches through Mr. Midnight's lair, Lee first activates a "Snake Pit," then an "Alligator Pit," and finally a "Peach Pit," which simply drops a giant peach pit on the hero. Even if we couldn't get a strong satire on the erosion of the American dream, I'd have welcomed more stupid jokes like that.