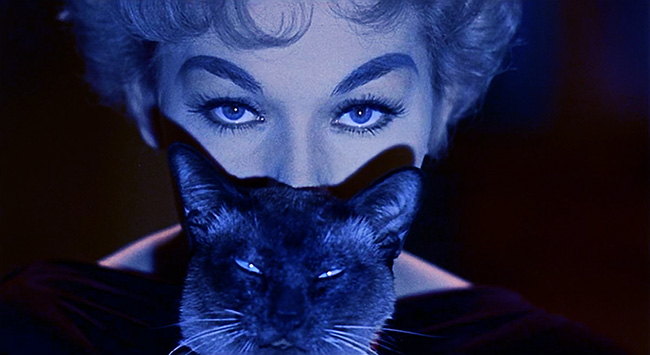 Alfred Hitchcock's Vertigo premiered in May of 1958, and later that year another James Stewart/Kim Novak pairing, the Christmas-themed Bell, Book and Candle, was released just in time for the holidays. (The film's New York premiere was on Christmas day.) The two make an uncanny couple: they're reversed mirror images of one another, with the obsessive, noir-themed Vertigo being the darker reflection of Bell, Book and Candle's frothy supernatural comedy. Both plots center on capturing the object of your obsession. Vertigo is voyeuristic and unsettling, while Bell, Book and Candle is a sexy, escapist romantic comedy. In Vertigo Stewart obsesses over Novak, but in Candle it's Novak who notices the hapless Stewart and subsequently intervenes in his life. Of course, director Richard Quine (How to Murder Your Wife) is no Hitchcock, but we can forgive him for that. Novak lobbied hard for Quine, overcoming Stewart's doubts; in fact, she was having a secret affair with the director. Despite Stewart's hesitations, Quine proves a good choice for what's basically a breezy sex comedy. The trailer, in fact, hard-sells the sex aspect and downplays the witchcraft. Audiences wanted to see Stewart and Novak together again, and the movie poster reflected the anticipation, showing the couple in each other's arms under the phrase, "Getting here is half the fun." Even Stewart, so afraid of heights in Vertigo, embraces the crisp December air of Candle at a high altitude – his key makeout session with Novak is at the edge of a towering New York City rooftop on Christmas morning.
Stewart here plays Shepherd "Shep" Henderson, a publisher engaged to pretty young woman of society Merle Kittridge (Janice Rule, The Swimmer). They're due to be married on Christmas, but on Christmas Eve he meets his gorgeous downstairs neighbor Gillian Holroyd (Novak), who slinks around her studio of primitive tribal art dressed all in black and accompanied by her Siamese cat Pyewacket, to whom Shep is allergic. She and her Aunt Queenie (Elsa Lanchester, The Bride of Frankenstein) are in fact witches, but they seldom practice magic because it's "habit-forming." Queenie, detecting Gill's chemistry with Shep, encourages her to cast a spell to bring Shep under her thrall and ruin his engagement with Merle. "I don't take other women's men," Gill says. "But it would be so easy," Queenie insists, "and it would be such good practice for you, darling." Gill isn't properly tempted until she encounters Shep and Merle later that night at the Zodiac Club, the hip jazz dive where her warlock brother Nicky (Jack Lemmon, The Apartment) plays the bongos. It seems that Gill and Merle have a past: Merle wrote the letter which got Gill expelled from the university they both attended, and Gill had retaliated by assaulting Merle with a thunderstorm. She delights in urging the jazz band to blast Merle straight out of the Zodiac, and when Shep finds himself in her apartment later that evening, she decides to work a little spell after all, with the help of her feline familiar. So Shep falls hard for Gill, and cheerfully breaks off his engagement with Merle the next day. No wonder that when he later attempts to recant and insists that Gill is a witch, Merle frostily responds, "Shep, you just never learned to spell."
Based on a hit play by British-born playwright John Van Druten, there's a screwball zing in the dialogue, but its greatest strength is its ensemble cast, including TV comedy legend Ernie Kovacs as Sidney Redlitch, the author of Magic in Mexico who's looking for an inside track to the workings of modern-day witchcraft. He never expected to find himself in New York, but he's on the receiving end of a summoning spell which Gill casts on a whim. When he wanders into Shep's publishing office he's bleary eyed, hair unkempt and coat rumpled, mumbling and smoking. He drinks without any real idea of what he's drinking, because it doesn't matter to him. He simply shuffles through life, obsessed with magic and witchcraft, just this side of raving lunacy. It's a pitch-perfect performance all the more so because Kovacs doesn't oversell it; his character feels lived-in. "Did you know they can't cry?" he rambles on – happening to drop a key plot point. "Physically impossible for a witch to shed a tear or blush. And when you throw them in the water, they float." Lemmon is also on the make, looking to sell his secrets to Redlitch and taking him under his wing, escorting him around the secret occult holes of New York City in a funny montage. When the two accompany Shep to have his love spell removed by a powerful witch named Bianca de Passe (Hermione Gingold, Gigi), Shep looks concerned when the magic-addicted Lemmon says, "I hope I can watch!" Lanchester is as amusing as always as the frustrated Queenie, who stays good to her promise to Gill not to practice witchcraft in the apartment house, but is full of improper suggestions for Gill to use hers.
It's another of Stewart's stammering and befuddled roles, but the real star here is Novak, who delivers each line with a breathy voice and a sensual gesture. Setting aside their significant age difference, the standard Hollywood sexism (Lanchester would be a more age-appropriate match for Stewart!), there are significant sparks between the two, Novak selling her character's infatuation. "It's nice having you over me," she says suggestively when Shep comes to visit. After a Christmas night of (presumed, off-screen) lovemaking, Shep says, "I like everything about you, haven't you noticed?" She answers, "Well, you've made it charmingly apparent." Queenie encourages the match, even though she'd never encourage commitment. When she begrudgingly tells Shep that Gill likes him – as opposed to loves him – she has to explain: "Oh that's a great deal for us, Shep. It's not as if we could fall in love. Love is quite impossible. Not hot blood though. Hot blood is allowed – but of course you know all about that." Being a romantic comedy, love eventually does enter the picture, but make no mistake: for most of its running time Bell, Book and Candle is a movie about hot blood. It's also about the smart, clever girl who all the boys and girls shunned in school finally taking what's rightfully hers. One gets the feeling that Merle was the cheerleader, while Gill spent all her time at the library – reading occult tomes, but still. It's nice to see Gill get the guy, first through low-down means, and then through honest ones (when Gill cleans up her act, she trades her black outfits for white). It's when she learns to cry – triggered by the end of her relationship and her abandonment by Pyewacket – that she realizes she's becoming a different person. "You gave me something wonderful," she tells Shep on their reunion. "You made me unhappy." All right, so she was more interesting when she wore black and had the cat – but for a 50's romantic comedy it's almost subversive to treat tears of sadness as a happy ending. This is a much lighter film than its unlikely companion Vertigo, but only because Novak's romantic obsession has a stronger dose of mischief.