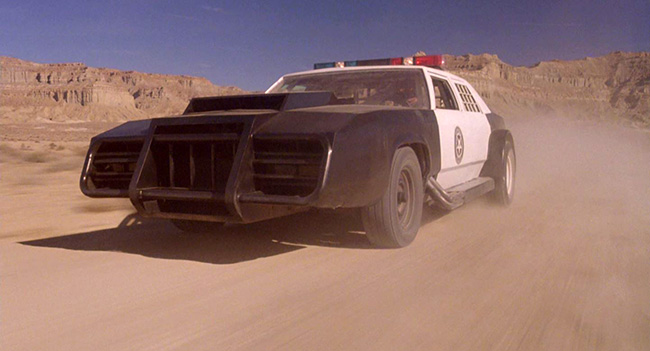 When I was a teenager, a pretty typical way to spend the wee hours of a Friday or Saturday was watching USA Up All Night, a B-movie showcase on the USA Network hosted by either Rhonda Shear (in a silk negligee) or Gilbert Gottfried (wincing and screaming). A typical USA Up All Night episode would be a horror movie, or a teen sex comedy, or preferably a teen horror-sex comedy, but heavily edited for basic cable television. Anything schlocky and from the 80's or late 70's was fair game. The Porky's series, Hell Comes to Frogtown (1988), and Sorority Babes in the Slimeball Bowl-a-Rama (1988) were par for the course. Shear channeled Elvira with bad jokes and a plunging neckline; Gottfried interacted with other characters in sketches, all while mocking the terrible film he was being paid to introduce. I think of USA Up All Night when I think of Highway to Hell (1991) – I'm pretty sure that's where I first saw it, although this could be my memory playing tricks on me; after all, Gottfried actually appears in the film, more or less doing another bit from the TV show. Regardless, in some ways Highway to Hell is the ultimate Up All Night movie, with creative special effects, an ambitious story, a recognizable cast, and celebrity cameos, yet all rendered in the somewhat dull patina of late 80's/early 90's B-movies. It's better than you expect it to be, but not nearly as good as it ought to be – the kind of movie you might try to describe to a friend on Monday morning, "Hey, did you see Highway to Hell on USA Up All Night? It was pretty aweso–I mean, it was all right–it wasn't bad–anyway, the host segments were kind of funny." In other words – whatever the movie is, it's a perfect way to kill some late night hours, and it's now available on Blu-Ray from Kino Lorber.
Highway to Hell – which does not, to its great detriment, feature the AC/DC song – is directed by Ate de Jong, a Dutch director whose best known film is the same year's Drop Dead Fred (1991). More promising should be the name of the screenwriter, Brian Helgeland, who would go on to L.A. Confidential (1997) and Mystic River (2003); we've all got to start somewhere, and in Helgeland's case, it was in horror, contributing to A Nightmare on Elm Street 4: The Dream Master and 976-EVIL (both 1988). Highway to Hell features a surprisingly ambitious story, updating the Greek myth of Orpheus and Eurydice into a Mad Max tale in an empty desert landscape. Young lovers Charlie Sykes (Chad Lowe, Life Goes On) and Rachel Clark (Kristy Swanson, the original Buffy the Vampire Slayer) are eloping and driving through the night. At the edge of the desert, and at the last way station for many miles, Sam (Richard Farnsworth, The Straight Story), the elderly owner of a gas station, warns them not to stop between the Joshua trees. (The gas station itself is a clue to the film's mythological theme – the pumps are shaped like Greek pillars.) But Charlie falls asleep while driving and spins off the road, just past the first Joshua tree. He's pulled over by the Hellcop, Sgt. Bedlam (C.J. Graham, Jason Lives: Friday the 13th Part VI), whose handcuffs are real hands. The Hellcop steals Rachel and takes her through a mystic portal. Charlie returns to Sam, who tells him that he also lost a lover to the Devil, and gives him a magical shotgun and a 1940 Ford V8 De Luxe. Charlie travels through the portal between the Joshua trees and arrives in Hell, which looks a lot like the Arizona desert (because it is).
From here on out it's a nonstop barrage of strange characters, clever jokes, lame jokes, and surprisingly thoughtful make-up and special effects. I'm a sucker for road trip movies, and I'm also a sucker for stranded-off-a-desert-highway movies; mix in some Greek mythology, a brief bit of stop-motion animation, and bizarre art design, and it's no wonder that I've watched this movie many times. But it is a strange film – the direction is spotty and never delivers the necessary suspense, and much of the comedy just doesn't land, as though something were lost in translation. First, let's focus on the positives. Unlike a lot of low-budget movies, Highway to Hell gives you a lot to look at all the time, which means it's never boring. The road to Hell is paved with good intentions – literally, as damned souls who committed mundane evils recite their excuses before being mashed to pulp and paved into the highway. A biker bar is constructed to resemble a giant Tommy Gun-toting mobster whose gun periodically dips like the handle of a slot machine, the slots on his chest spinning until letters form the name of the joint: Hoffa's. The commute to Hell City is crammed with VW bugs beneath freeway signs indicating locations like the River Styx before they speed into a tunnel beneath a mountain. Hell City itself rises in skyscrapers over the River Styx, and the souls headed there are issued white shrouds before they're escorted past the three-headed Cerberus (the stop-motion bit, a tribute to Ray Harryhausen). Even when Charlie, passing through a Hell City museum, takes refuge behind a door marked "Janitor's Closet," he finds himself in a surreal room decorated like a Jackson Pollock, with nylon-covered figures painted the color of the walls. At times it's a mess of a movie, but at least there's always something going on.
In his quest, Charlie is accompanied by a small, cloying child (Jarrett Lennon, Short Cuts), an orphan watched over by a mechanic named Beezle (Patrick Bergin, Sleeping With the Enemy), who is later revealed to be Satan himself (this is such an obvious reveal that it surely can't count as a spoiler). He becomes tangled with a biker named Royce (Adam Storke, Death Becomes Her) and his girl, Clara (Pamela Gidley, Twin Peaks: Fire Walk With Me), who also happens to be Richard Farnsworth's ageless Ex. He also encounters a handful of celebrities, among them Ben Stiller, in an early role, as both Attila the Hun and a goofy cook at a diner called Pluto's. The entire Stiller clan is here, including his father Jerry Stiller (Seinfeld) as a dead cop, his mother Anne Meara (The Boys from Brazil) as a waitress named Medea, and his sister Amy Stiller (Tropic Thunder) as Cleopatra. And Gilbert Gottfried, Mr. USA Up All Night himself, plays Adolf Hitler, who's pretending that he's not Hitler, just an ordinary teenage boy. As Gottfried stated in an interview with the AV Club earlier this year, "You know, the credit 'Gilbert Gottfried as Hitler' is actually much funnier than the actual scene." Indeed, at the end of the day, the movie isn't nearly as funny as it ought to be, but – worse – the car chases are devoid of thrills. The climactic race aims for The Road Warrior but falls far short. A better director could have added some punch to this occasionally listless film (the dreary score, by the band Hidden Faces, doesn't help), but still, if it's late at night and there's nothing else on TV, this is one of those movies that will stick in your memory, with or without Rhonda Shear introducing it in lingerie. I guarantee that years later you'll be asking someone, "Hey, what's the name of that weird movie with Gilbert Gottfried as Hitler?"