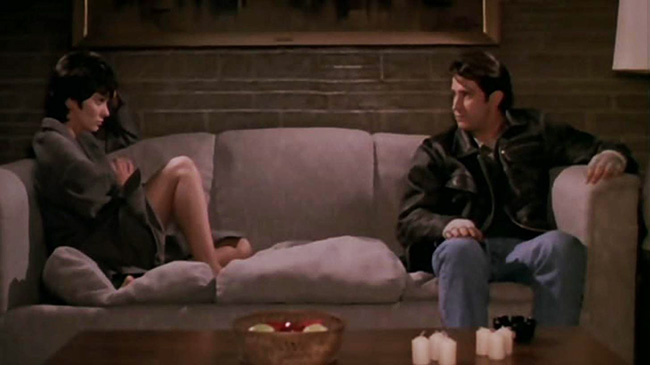 In 1981, John Landis, a comedy director best known for Animal House (1978) and The Blues Brothers (1980), decided to make a horror film. It would essentially be a Wolf Man movie, a tribute to his monster kid roots. The result, An American Werewolf in London, has a reputation as a horror-comedy, but I'd qualify it as a very serious horror film that captures the absurdity and black humor within a very bleak premise (you're a werewolf, you're killing people every night, and the only way you can stop it is to die). The film was a hit, but it would be a full sixteen years before it received an official sequel, the disappointing An American Werewolf in Paris (1997), which was made without the involvement of Landis. I'd like to think that movie never happened, and that the true American Werewolf sequel be recognized as the Landis-led Innocent Blood (1992). (According to the IMDB, the Australian title was A French Vampire in America. Not bad, but I'd specify A French Vampire in Pittsburgh.) If it doesn't have the same formula as the 1981 film, that's because the variables have been nudged a few degrees in different directions. The screenplay by Michael Wolk (his only writing credit) changes the setting to a chilly Pittsburgh by night, with snow falling from the sky and piling in empty side streets. Because the plot deals with Italian-American gangsters, the film begins like a straight-faced Goodfellas spin-off before supernatural horror turns the gangster drama into a parody: imagine The Sopranos with Tony's posse turning into vampires and you'll get the idea. And despite the buckets of blood on display – this is a very gory film – it feels lighter than American Werewolf. That's because Innocent Blood is, at its heart, an old-fashioned romance, albeit one with kinky sex and lots of neck-snapping and throat-ripping.
The vampire at the center of this story is Marie, played by Anne Parillaud, who had become an international star playing the lead in Luc Besson's La Femme Nikita (1990). Landis wisely keeps her French accent intact, so that Parillaud is playing a foreigner in every sense of the term, an immigrant and outsider isolated in an apartment in the middle of Pittsburgh, surrounded by enough candles to support a Meat Loaf video. She's survived only by being clever and resourceful. Like Dexter, she only kills those who deserve to die (by her estimation), and she makes sure they're dead: in an early scene, she uses a shotgun to blow her victim's head off. "My second rule," she says in voice-over as she pulls the trigger, "always finish the food." The first rule is invoked when she meets Joe Gennario (Anthony LaPaglia, Summer of Sam), a cop. The two are immediately attracted to one another, but she tells herself: "Never play with the food." Each goes their own way on separate assignments, Joe to continue his undercover work embedded in the Pittsburgh Mafia, Marie to kill members of that mob because, as she frames it, she's hungry for Italian. Innocent Blood has a dream cast, and one look at the gangster lineup proves it: Robert Loggia (Scarface), as psychotic mob boss Sallie "the Shark" Macelli, is backed by Chazz Palminteri (A Bronx Tale), Tony Sirico ("Paulie Walnuts" from The Sopranos), David Proval (Mean Streets), Kim Coates (The Last Boy Scout), Tony Lip (Goodfellas, The Sopranos), Rocco Sisto (Carlito's Way), and – last but not least – Don Rickles as his lawyer Manny. (Rickles seems to be auditioning for his future role in Casino.) Working against the mob is district attorney Angela Bassett (What's Love Got to Do With It) and cops Luis Guzmán (Boogie Nights) and Leo Burmester (The Abyss). This being a John Landis film, a number of directors and cult icons are also given cameos, among them Frank Oz, Sam Raimi, Dario Argento, Tom Savini, Forrest J. Ackerman, Linnea Quigley, and others. (Another Landis trademark is also present: there's a blink-and-you'll-miss-it marquee advertising See You Next Wednesday.) Of these, Oz gets the biggest and best role, as a medical examiner whose dead subject – Loggia – abruptly rises from the table and pulls out the thermometer that's been stuck into his belly. As Loggia growls, upends medical equipment, and storms out of the room, the coroner's assistant says, "Well, stop him!" Oz answers, "You stop him!"
Much of the story alternates between LaPaglia's investigation and Parillaud's vampire Marie, who's feasting on Sallie the Shark comes undone when she's not given the chance to "finish the food." Joe and Marie finally team up when Loggia begins building a vampire mob – although Rickles doesn't last long, meeting a spectacular demise when a nurse opens the curtains to let in the morning sun. (Kudos to Rickles for enduring the makeup and practical effects work for this sequence, which earns comparisons to Fright Night.) Landis has fun both playing genre clichés and tweaking them, as gangster saga and vampire movie collide. Loggia, perpetually drenched in blood, is oblivious to the way his men recoil when he offers to promote them to "made men." Rickles is particularly good as Loggia's increasingly anxious attorney, urging his deranged, undead client to not murder LaPaglia on his front lawn, but delighted that Loggia's not-living status provides a legal loophole for their illicit activities. Others, like Bassett and Palminteri, deserve bigger roles, but they weren't household names just yet; Palminteri, at least, gets one great scene as he succumbs to the seduction of Parillaud to the soundtrack of Frank Sinatra. But the film primarily belongs to Parillaud and LaPaglia as Marie and Joe, spending much of the film in pursuit, then circling one another warily before checking into a motel, as Marie takes shelter from the sun. They stare at one another. Marie is interested. Joe is interested but terrified. The dance of seduction begins at opposite ends of a couch – Joe hilariously squirming against the arm rest, his body doing all but fleeing – and ends with handcuffs. Innocent Blood comes from the era of heightened safe sex messaging, but Landis has fun with the notion of what safe sex with a vampire could possibly mean. The condom that Joe nervously opens while Marie tries to go down on him seems somewhat insufficient. When she volunteers cuffing herself, he finally gets the confidence to join her – though in her passion she breaks the cuffs apart with ease. The sequence isn't just sexy; it's non-puerile and adult in ways that almost 25 years later still feel refreshing and rare. (That may have something to do with the fact that the movie celebrates the joy and intimacy of sex. Sex is not followed by punishment, as so often happens in American films, horror films in particular.)
Parillaud's Marie is really the main character, and she can hold her own, with eyes that glow different colors (red while she kills), and the savagery to tear holes in the throats of her "food." (The vampires here don't follow all the traditional rules, and Landis treats them not too differently from his werewolves.) If she acts the frail flower, shooting a flirtatious smile, it's usually to lower the defenses of her victims. In the climax, we learn just how efficiently and naturally she does this. "I'm just a girl," she says to one gangster before smashing his face with a baseball bat. Her only weakness proves to be Sallie the Shark's garlic breath. More often than not, she's the one saving Joe, and her goal has nothing to do with him: she simply wants to stop Sallie from spreading vampirism. "He's a cold-blooded killer," she says to Joe, words he turns against her. But she's already aware, even self-loathing – when she sees her blood-smeared reflection in the mirror, she smashes it. Initially she craves sex – she says so in the film's opening, as she walks nude through her apartment, but she begins to realize that she also wants companionship, a partner and an equal. That separates Innocent Blood considerably from American Werewolf, but it still makes for a worthy companion film. Like Werewolf, its central character is in conflict with the killing instinct of an inner monster. But just as the gender of the protagonist has been flipped, so has the balance of the genre elements, creating a more comedic and optimistic monster movie in the process. Wouldn't you rather have your sequels give you something new? Released, dismissed, and largely forgotten, Innocent Blood deserves a resurrection.