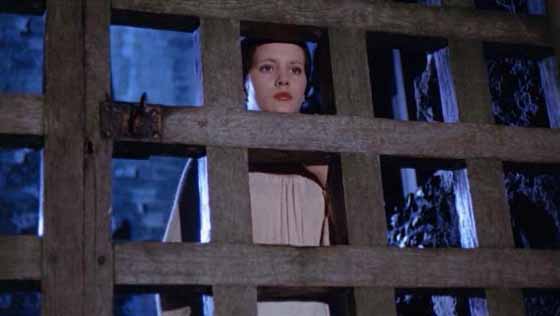 By the time Jean Rollin made Lips of Blood (1975), his technique was settled, and he could exert his unique style of storytelling with more confidence. Here is a film which is both consistently dreamlike and consistently logical, even if the logic belongs to the realm of fantastique. Frédéric (Jean-Loup Philippe) is attending a party to launch a new perfume. He notices the perfume's promotional poster, which depicts a castle under gray skies; at the bottom is the perfume itself, which looks like a vial of blood. While his gaze traces every detail of the poster, we hear his memories stirred upon the soundtrack – himself, as a boy, lost inside the castle's walls. Suddenly a repressed memory has come back to him; he recalls visiting the castle one night as a young boy, meeting a pretty girl in white (Annie Belle), guarded by a crucifix. Strange feelings are aroused within him. He meets with the photographer, a seductive young woman who just happens to be snapping erotic pictures of a voluptuous nude when Frédéric arrives (this is a Rollin film, after all). Mysteriously, she tells him she's been paid to give no details of the location where she took the photo. He asks his mother (Natalie Perrey, also Rollin's reliable script-girl), but she insists that his memories are false. Over the course of one long evening, Frédéric – ostensibly on a date to meet the pretty photographer – encounters the spectre of the girl from the castle, is lured into a mausoleum, accidentally unleashes a quartet of female vampires from their prison, discovers the body of his date lying nude in an aquarium display, and fends off an armed assassin on an elevated train. Recounting his adventures only persuades his mother to have him locked up in a strait-jacket – where he's rescued by the Castel twins from The Nude Vampire (1970), now sporting long fangs. Eventually he discovers the route to the castle, where he confronts his mother, discovers the girl exactly where he left her, and learns the true secret of his past.
As Rollin whimsies go, they don't get much better than this. The score by Didier William Lepauw is lush and occasionally romantic. Revisiting the erotic vampire genre that launched his strange career, he indulges in self-referentialism while tapping into the Gothic lyricism he discovered in The Iron Rose (1973); to the first point, Frédéric's late-night odyssey begins when he enters a screening of Rollin's Shiver of the Vampires (1971) and sees the phantom – or astrally-projected image – of his soulmate from childhood. In an image straight out of David Lynch's subconscious, she appears in an exit just below the flickering images of the movie screen (depicting the former film's two young newlyweds arriving at the vampire castle), standing in her own portal of light, which he must follow her through. Rollin even hangs a poster for The Nude Vampire outside the cinema, and has a cameo as one of the vampires' victims, spitting blood after he's mauled by the semi-nude beauties. The beach of Pourville-sur-Dieppe, with its eerie black posts marching into the gray tide, makes yet another appearance in Rollin's filmography, this time for an epilogue which becomes his most haunting use of the location yet. And of course the Castel twins triumphantly return, after a few films in which only Marie-Pierre Castel could appear, her sister essentially being on maternity leave from the series. (Twins – or paired females in general – recur obsessively in all his films, acting as mute guides to the realm of the dead.) A further Rollin trademark was to decorate his sets with objects so specifically selected – with such untranslatable, personal meaning to the director – that they resemble, and become, objects of magic. This touch is elevated here in one of the final scenes with Annie Belle, when those objects circling the immortal vampire's coffin are revealed to be the only connections she had to her former identity, pop cultural detritus that sustained her like blood.
Certain moments in the film recall the work of other French directors, notably Jacques Rivette (who also filmed a midnight meeting in an aquarium in 1976's Duelle) and Jean Cocteau (in particular Orphée). But it's undeniably the work of Rollin, from its open worship of women, restless but frustrated sexual longing, hypnotically austere pacing, charmingly awkward action scenes, and – more often than not – stunning compositions, from his use of shadows and colored spotlights (in two scenes, characters are stalked by monstrous silhouettes cast on walls), to his Surrealist's knack for simple but striking juxtapositions (a coffin floating toward a cruise ship). Of course, he was not destined to be welcomed by the art house crowd. So, distressingly, outside pressures continued to force him into compromises. In the case of Lips of Blood, he was forced to shoot a hardcore sex version of the film, which was released as Suce Moi Vampire (Suck Me Vampire). Fascination: The Jean Rollin Experience recently reviewed this rare cut of the film, a curiosity to be sure, but also a sad statement of the extent that Rollin's more personal visions were so unwelcome in the grindhouse decade. But Lips of Blood, in its unmarred form, remains one of the director's most enticing works, and the beautiful new Blu-Ray from Redemption/Kino Lorber showcases all its lovely virtues.