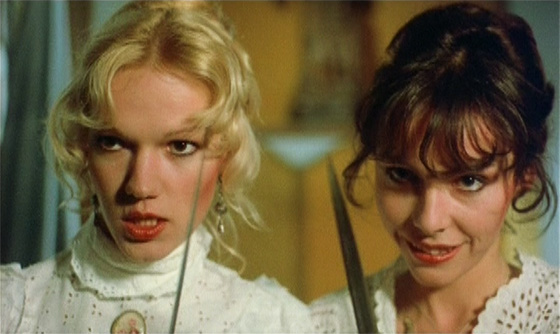 Following Lips of Blood (1975), an artistic achievement in dream-like Gothic romanticism which he was financially compelled to re-edit and re-release as a bastardized, pornographic picture (Suce moi vampire), Jean Rollin entered the wilderness. He became Michel Gentil; he became Robert Xavier. Art was set aside in those lean years; un film de Jean Rollin was always a tough sell anyway, and it was time to pay the rent. One of those pictures, Phantasmes (aka The Seduction of Amy, 1975), he did sign with his own name – by all reports, it was a legitimate attempt to make an art film with hardcore elements. But the raincoat crowd wasn't interested. It would not be until the latter years of the decade that Rollin returned with a vengeance, once again making the kind of languid fantastique that had bought him his small cult following in the first place: The Grapes of Death (Les Raisins de la Mort, 1978) and Fascination (1979). The latter, recently restored in high-definition for Kino Lorber's Blu-Ray release, stands as one of Rollin's finest and most haunting horror films.
Granted, it never seems quite right to label Rollin as a "horror" director – his allegiance was more to old French serials and comics, which he would render with a Surrealist's eye – but Fascination seems to fit the genre well, while remaining unmistakably Rollin. It's not another vampire film (though for a while the audience is hoodwinked into thinking it is); rather, it reveals itself to be a kind of slasher movie for intellectuals. We're halfway through the running time when suddenly the beautiful Brigitte Lahaie dons a black robe over her nude body, then retrieves a giant, sharpened scythe from a barn and begins cutting some throats: Rollin's vision of Death as an erotic, icy goddess with blonde hair and red, red lips. But the film begins with genre misdirection – a gang of bandits argue over some gold coins following a robbery (recalling earlier Rollin films Requiem for a Vampire, Schoolgirl Hitchhikers, and The Demoniacs). Mark (Jean-Marie Lemaire) absconds with the loot while the other criminals give chase, and takes shelter in a château surrounded by a moat, the only entrance a stone bridge. There he meets two women in white, Eva (Lahaie) and Elisabeth (Franca Maï). Ostensibly he takes them prisoner so he can occupy the manor for the evening, but very quickly it becomes unclear just who the real hostage is. They play the victims between fits of laughter: "What do you want from two girls like us, defenseless and at your mercy?" "I beg you not to kill us." "You can rape us!" "I offer you my virginity in exchange for my life." "Do with me what you want, but spare this child!" Eva seduces Mark, delaying him longer in the château. When he asks what the girls are doing there, and where the master of the house is, they only respond that the "madame" is returning that night with some friends. Something important will transpire at midnight. He needs to remain until then.
As the day wanes, Eva finds a means of dispersing the unwanted visitors besieging the château. First – to Mark's alarm – she hands over the stolen coins, but they take her prisoner anyway. By the afternoon she's returning across the bridge with a bloody scythe, every last bandit dead. Meanwhile, Elisabeth thinks she's fallen in love with Mark, and warns him to leave before "Death" arrives at midnight – but by now his curiosity is piqued. When the "madame," Hélène (Fanny Magier), finally arrives with a small party of young women, she warns him, "At midnight you will see what seven women can do to a lone man." The balance of power continues to shift back and forth. When he wins a party game blindfolded, he uses his victory to dominate and humiliate Hélène. But then he finds a bloody body adrift in the moat, the women don red, transparent gowns, and the game turns against him. The film's prologue – a striking scene of a beautiful socialite standing in a grisly abattoir, drinking ox blood as a treatment for anemia – circles back into the plot, as Mark discovers that the unorthodox medicine has produced a cult of blood-drinkers under the guidance of Hélène, and the unwary thief is the evening special.
Rollin discovered Lahaie in his Gentil/Xavier years (she had appeared in his hardcore film Vibrations sexuelles), and felt that her beauty and presence was deserving of mainstream attention. Regardless, her body is on display for much of Fascination, and with distribution worries in mind, he shot extended softcore footage which, thankfully, he didn't need to use (the new Blu-Ray includes it as a supplement for, um, completists). Although there's plenty of sex in the film, the balance is in favor of the erotic – Rollin's preferred forté – rather than porn. Lahaie, who also worked for Rollin in The Grapes of Death, The Night of the Hunted (1980), and The Runaways (1981), has since gone on to become an author and host of sexuality-themed talk shows in France. Though Lahaie's role in Fascination has become iconic among cult movie fans, her co-star, Franca Maï, gives the stronger performance. With wicked, seductive eyes that finally reveal a deranged mania in the film's finale, it is Maï who buries the scythe deeper in my memory. Like Lahaie, the actress spent the following decades exploring other realms of art, as a singer, photographer, novelist, and even underground filmmaker; sadly, she died of cancer this past February. The appropriately-titled Fascination remains one of Rollin's most popular films: the excellent Rollin fansite bears its name, and Finders Keepers Records has the Lahaie-as-Grim-Reaper poster art gracing its brand new Rollin CD compilation, as well as the limited edition 10″ vinyl soundtrack for the film.