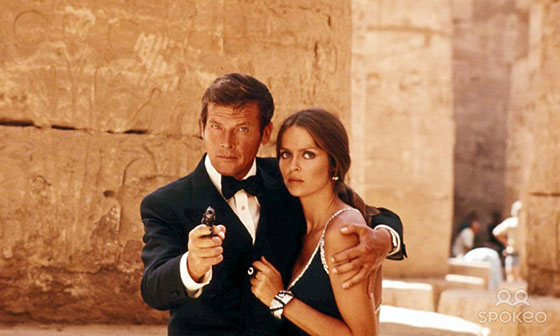 In the mid-1970's, Eon Productions, the company founded by Albert R. Broccoli and Harry Saltzman, had to take drastic measures to save the James Bond franchise following the disappointing box office of The Man with the Golden Gun (1974). (Prior to that, 1971's Diamonds are Forever, which featured the return of Sean Connery to the role, and 1973's Live and Let Die, with the debut of Roger Moore, had no trouble; the latter had the highest worldwide grosses of any Bond film to date.) Moore's sophomore outing as 007 contained Hong Kong martial arts action, some great stuntwork, and Christopher Lee and Herve Villechaize as the villain and his sidekick, but in retrospect the film's story and style seem better suited for the grindhouse circuit. (Incidentally, this is why I really like it.) The following year saw the blockbuster success of Jaws (1975), and the bar for cinematic entertainment was raised not just in Hollywood, but in London-based Eon. If Diamonds are Forever, Live and Let Die, and The Man with the Golden Gun all reflected the styles and B-movie genre trends of the early 70's, The Spy Who Loved Me (1977) would be bigger and look slicker. The production budget was approximately $14 million, twice the amount allocated to Golden Gun. Production Designer Ken Adam, who created the volcano HQ in You Only Live Twice (1967), was brought back to the series for the first time since Diamonds. For the interior of the supercarrier Liparus, Adam built a waterlogged set so gigantic that it's become a fixture of Pinewood Studios, the "007 Stage." Eon also hired the director of YOLT, Lewis Gilbert. Location shooting shooting was extensive (Egypt, Switzerland, Sardinia, Malta, Okinawa, etc.).  The film was going to look like classic 007. No third nipples or a half-naked Villechaize with a mask and pitchfork in this one. It was a turning point in other ways, too: Saltzman was forced to sell his portion of Eon due to personal crises, making The Spy Who Loved Me the first "Cubby" Broccoli-only Bond production.
Another first: the story was a complete original, since Eon didn't have the rights to Fleming's novel, just the title. The book is considered one of his lesser works, and Fleming himself virtually disowned it, though I find it interesting: told from a woman's point of view, this pure pulp features a showdown in a Canadian motel more along the lines of 40's film noir (think Detour), or perhaps a modern Tarantino film. By the mid-to-late 70's, Eon simply wouldn't have used the plot anyway, though they might have borrowed a character name or two. Nearly all of the Bond films after the scrupulously faithful On Her Majesty's Secret Service (1969) paid only passing respects to the source material – the 2006 Casino Royale being a notable exception. The script for The Spy Who Loved Me went through multiple writers and drafts, and a legal tangle with Kevin McClory, who helped Fleming conceive Thunderball and claimed ownership of popular villain Ernst Stavro Blofeld, meant Blofeld was excised from the script and replaced with one Karl Stromberg (Curt Jurgens, Vault of Horror). The end result is a film that feels like a highlights reel of Bond films of the 60's, polished with a bigger budget, better special effects, and modern (70's) pop stylings – Carly Simon on the title song ("Nobody Does It Better") and a score with disco beats. The purpose of all this was to remind audiences of what they liked about James Bond.
For example, the film contains a ski chase (On Her Majesty's Secret Service), an underwater battle (Thunderball), a romance with a Russian beauty and a duel in a train (From Russia with Love), a submarine-swallowing supercarrier (similar to Blofeld's rocket in You Only Live Twice), and a villain fond of killing his underlings in creative ways (too many movies to mention). The Spy Who Loves Me isn't short on references. The score quotes Lawrence of Arabia when Bond and "Agent Triple X," Anya Amasova (Barbara Bach, Short Night of Glass Dolls), travel through the desert, and earlier her music box plays "Lara's Theme" from Doctor Zhivago. Director Gilbert even offers a nod to Hammer Horror in the film's best setpiece: a killing in an Egyptian pyramid in which, while Bond looks on, henchman Jaws (Richard Kiel) stalks a spy and bites him in the neck with his metal teeth. Because this death takes place while a tourist's show is blaring symphonic music and casting colored lights on the pyramids, it takes on the Gothic splendor of a Dracula or Mummy film. And when Bond leaves the crime scene and glimpses Amasova for the first time, the pre-recorded music rises dramatically as the spotlight hits her. What we're getting is lush theatricality and movie-love. What's wonderful about this particular Bond film is that a few minutes earlier, we were in an Egyptian club with hookahs and dancers, soon we're in Lawrence of Arabia, and then our two agents are on their way to Sardinia to visit Stromberg's oceanic stronghold, Atlantis. Snow gives way to desert, desert gives way to ocean – this is a Bond epic.
For continuity, Q (Desmond Llewellyn) returns with another weapon and gadget showcase, of course, this one being Egyptian-themed (a hookah becomes a machine gun); and M (Bernard Lee) and Moneypenny (Lois Maxwell) are here too. Fans of British cult cinema will be pleased to see Caroline Munro (The Golden Voyage of Sinbad, Captain Kronos: Vampire Hunter) as the bikini-clad femme fatale Naomi, a cameo by Blood From the Mummy's Tomb's Valerie Leon, and, of course, Eegah!'s Richard Kiel is introduced as iconic Bond villain Jaws, a role he would reprise in Moonraker (1979). Bach, soon to be Ringo Starr's wife, makes for a memorable Bond girl, as she's the first since Diana Rigg who can hold her own with 007 (she smoothly rebuffs his advances for a long while, and when she discovers he killed her lover, vows revenge). She can't muster a Russian accent, alas, but she looks great in a low-cut slip.
By now, Roger Moore was already beginning to look a little too old for the role. But he's perfected his particular brand of Bond – slightly condescending, always ready with a raise of an eyebrow and an exceptionally juvenile pun. If you like Moore, and a lot of us grew up on him, this is the very best of his films. Both he and Bach are particularly enjoyable in a battle with Jaws in an Egyptian ruin riddled with modern scaffolding. While Kiel systematically shreds their van to pieces, Moore calmly chides Bach on her driving ability, until she proves her worth by putting the vehicle in reverse, pounding the accelerator, and smashing their assailant into a wall. A short while later, his seduction attempt is put to an abrupt halt when she gasses him with a KGB-brand cigarette. A sequence in which the Lotus Esprit transforms into a mini-sub leads to a sequence that's filled with genuine awe and wonder, as Moore and Bach gaze out their windows at sea creatures and spy upon the submerged Atlantis – actually through a car window and down through a glass dome, to see Stromberg's men plotting over a gigantic globe. (Is this the moment when the Bond movies officially became fantasy cinema? It's a moment worthy of Jules Verne.) Even the familiar "Bond and the girl on the water, their consummation interrupted by M" closing gag is handled with gusto, thanks to a men's chorus that reprises Carly Simon's theme – which, by the way, is a classic. You don't miss Lulu.
For fans, part of the appeal of the James Bond franchise is how it's adapted its formula to each transient pop culture trend. The film series was begun during Ian Fleming's lifetime, but has outlived him by 50 years (this year marks the 50th anniversary of his death). The Bond of the novels will remain a character of a different era, but the Bond of the films – along with his missions, fashions, gadgets, cars, and women – is constantly evolving. The Spy Who Loved Me is a film of the FX spectacle-driven 70's, to stand proudly alongside Star Wars (1977) and Superman (1978) – ready-made for toys, trading cards, and lunchboxes. But of course it is…Bond invented this stuff. A course corrective for the series – and not the last (see: The Living Daylights, GoldenEye, Casino Royale) – The Spy Who Loved Me remains one of the most handsomely mounted, purely enjoyable Bond entries.