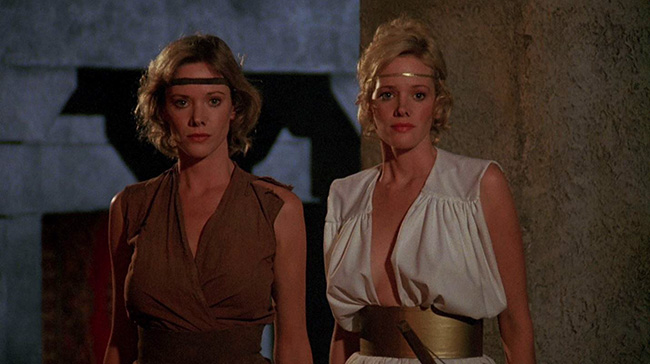 When Roger Corman saw the opening weekend box office for Conan the Barbarian (1982), he asked that Jim Wynorski turn out a quickie script for a sword and sorcery picture. Jack Hill, director of exploitation classics Spider Baby (1964), Pit Stop (1969), The Big Doll House (1971), Coffy (1973), and Switchblade Sisters (1975), was brought on to direct. The film would be a Mexican co-production, shot in Mexico with a largely Mexican cast apart from its leads, blonde twins Leigh and Lynette Harris, former Playboy Playmates. Originally entitled The Barbarian Women, Roger Corman market-tested some titles and saw that Sorceress scored better, even though the film didn't actually contain a sorceress. Before the year was out, Sorceress (1982) was in theaters, and turning a profit. Never one to miss an opportunity, Corman followed with more New World sword & sorcery movies with airbrushed fantasy art on the posters, abundant nudity and violence, and cheap special effects: Deathstalker (1983), The Warrior and the Sorceress (1984), Barbarian Queen (1985), and so on. But Jack Hill was unhappy with Corman's post-production meddling on Sorceress, allegedly cutting half an hour, and so Hill removed his name from the film (he retained a producer credit). Even after Corman's edits, the film remains one of the more bizarre fantasy B-movies of the early 80's boom.
The Harris twins play Mira and Mara, sought by the evil priest Traigon (Roberto Ballesteros) so he can sacrifice them to summon an ancient god. They are "the two who are one," magically united so that, like the Corsican Brothers, they can feel each other's pain – or, at least, their orgasms, as one scene makes very clear. Mira and Mara are raised in such perfect ignorance that they aren't even aware of gender difference. (When someone points out their well-developed chests, one of the girls answers that she's never really noticed before.) Initially they're protected by a mystic warrior who, like so many in this film, wears an obviously fake beard and a robe that looks like it was found in the wardrobe department of a cheap Mexican religious epic. Later they join up with an assortment of cast-offs from disparate fantasy subgenres: a satyr named Pando who speaks in baas, a blonde barbarian named Erlick, and Valdar, a Norse Viking. When Mara and Erlick are kidnapped by Traigon and the evil Princess Delissia (Ana De Sade, The Holy Mountain), Mira, Valdar, and Pando set out to rescue them, culminating in a cosmic battle with two gods, one of which is a winged lion hand puppet, the other a woman's disembodied, deformed head. The woman shoots green rays out of her mouth, the lion lightning out of its eyes. It's a scene that wouldn't be out of place in the Lou Ferrigno Hercules (1983). One notable torture sequence involves a naked Erlick bound to a greased stake, his rear end sliding slowly down toward an unfortunately placed spike.
The omnipresent dubbing is occasionally interrupted by winking jokes courtesy Hill and Wynorski, though somehow they come across as awkwardly as everything else. When Mira moans and writhes in response to her sister's orgasms, Pando becomes sexually excited, forcing Valdar to send the frustrated goat-man away: "Let me know when you find a cold river." A zombie army abandons their climactic siege to carry away the beautiful virgins gathered for a ceremony, which Valdar justifies by noting they've been buried for thousands of years. When Erlick celebrates victory with his arms around both twins, Valdar asks, "Isn't one enough for you?" Erlick responds, "You forget, Valdar, these two are one." At best, the film is about on par with Corman's Conan rip-offs that followed. But it all feels like a career low for Jack Hill, who made some of the most entertaining exploitation films of the 70's. Surely the missing half hour wouldn't address the stiff acting and lethargic fight scenes. He originally intended Sid Haig to play the goat-man, but it's doubtful even that would have saved the picture. Sorceress, unfortunately, would be Hill's swan song.