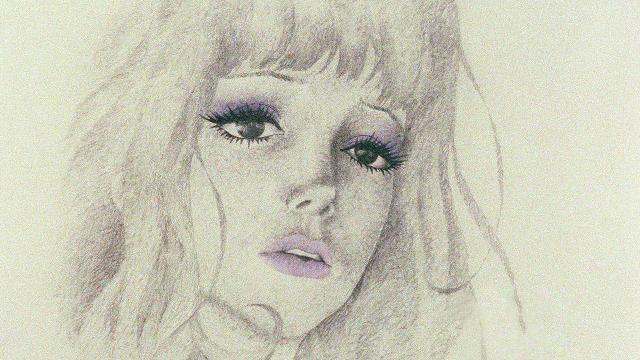 Earlier this year I reviewed A Thousand and One Nights (1969) and Cleopatra (1970), the first two films from the experimental, adult-themed "Animerama" series from manga legend Osamu Tezuka (Astro Boy). The first film beat Fritz the Cat (1972) to the punch with its explicit sexual content, but also stretched the medium of animation in many other ways, stylistically drawing from artistic sources beyond the usual anime beauty marks. Cleopatra may have been a muddled mess, but it's also the most interesting kind of failure, too swollen with ideas and imagination to ever lapse into pornography; it also ranks as the strangest telling of Cleopatra's story on record, bookended with a non sequitur tale of intergalactic war. Animation director Eiichi Yamamoto had collaborated closely with Tezuka on both films, but always under Tezuka's lead. With the third "Animerama" film, Belladonna of Sadness (1973), Tezuka decided to take a back seat, allowing Yamamoto to develop the story and style. Tezuka also promptly left Mushi, having developed a distaste for anything remotely commercial and coming to believe that a true artist works entirely experimental. Funny, then, that Belladonna would become the most experimental film of the series, as well as the only one which could be called a masterpiece. It was born amidst a storm, including Tezuka's departure and the studio's approaching bankruptcy. A slashed budget on Belladonna (and a greatly reduced animation staff) was both practical and a source of inspiration.
Yamamoto was inspired by a 19th century French history of witchcraft, La Sorcière, by Jules Michelet. He approached illustrator Kuni Fukai to develop the visual look of Belladonna, which would be completely unlike the earlier, Tezuka-led films. The storyboards were so beautiful and detailed that they practically became the film itself. Yamamoto intended the film to have as little motion as possible. Lip syncing was abandoned, which he felt was time consuming animation with little reward; so mouths seldom move in Belladonna, despite the dialogue, creating the sense of reading a picture book of a very X-rated fairy tale. He wanted to linger on Fukai's images, pan across them. As Fukai explains in a new interview on the Belladonna Blu-Ray, "One picture has everything in it. I think of them as scenes where the audience has to use their brain." If you were to look at each mural-like picture as a whole, you'd have to decide where to start looking–where chronology begins. The animation happens by simply panning from the correct side: usually right-to-left, in the Japanese style of reading, which seems more surreal to Western eyes. This allows the image to unfold, open up like a pop-up book, create a sense of wonder with small revelations: that this space of white is a hand or a leg, or that Jeanne's Rapunzel-like hair has been binding together all that we see. But the film does contain animation, the minimalist approach creating a stunning effect by being employed at the most passionate or distressed moments. Jeanne, our medieval heroine, is in love with Jean, a tax collector, but they are torn apart by a corrupt lord, who allows his subjects to rape her. She is visited by a small, phallic demon, who sexually stimulates her while tempting her to embrace dark powers. The simple story is driven by the exploitation of Jeanne and Jean by the wicked lord, the spread of Plague, and Jeanne's eventual embrace of demonic forces in her desire to overcome her powerlessness. In one of the most startling sequences, Jeanne works up the entire village into a bacchanal, and Belladonna of Sadness serves up one obscene cartoon after another in rapid succession. But much of Belladonna is beautiful to behold, pastel-colored and lushly detailed. You might doubt at first that your attention can be held for a feature length film with such limited animation, but a hypnotic effect kicks in quickly. It certainly helps that there's a potent melancholy and grief which fuels every moment. Even a digression involving a diminutive court attendant and his seduction of a queen comes across not as padding but as a lyrical complement to the whole.
Critical to the film's effect is its mesmerizing score, the work of jazz musician Masahiko Satoh, who drew inspiration from the American psychedelic scene. This matches Yamamoto's stated desire to top Yellow Submarine (1968), although the closest he comes to the style of the Beatles animated film is a dazzling Peter Max-style pop art interlude (which, for the film's restoration, had to be painstakingly re-inserted from a rare print in a Belgian archive). Although an artistic triumph, Belladonna of Sadness was released to indifference in its native land, playing only a handful of theaters before quickly disappearing. It arrived just as Mushi Productions finally went bankrupt. Yamamoto would move on to the hit series Space Battleship Yamato. And Belladonna quickly became forgotten, despite a positive reception at the Berlin Film Festival and some well-received screenings in other parts of the world. The recent restoration by Cinelicious Pics seems to have benefited from all the marketing that it ought to have had upon the film's 1973 release: after teasing the film with an online trailer a year in advance of its release and building word in the blogosphere (even sponsoring an art contest), the film was released earlier this year in theaters to glowing reviews. Finders Keepers Records, a rare records cult label specializing in international psychedelia, released the soundtrack on vinyl. A Blu-Ray was issued in July with each lovingly restored watercolor painting on full display. What makes Belladonna so difficult to describe is that it isn't just another hentai, nor is it simply "weird," the go-to word for most reviews. There's a conviction in its storytelling, as well as a sense of catharsis, operating in a similar way to an effective horror film: Yamamoto reaches into our subconscious and exposes our fears and desires. The film is more than its beautiful images; it is, genuinely, a masterwork.