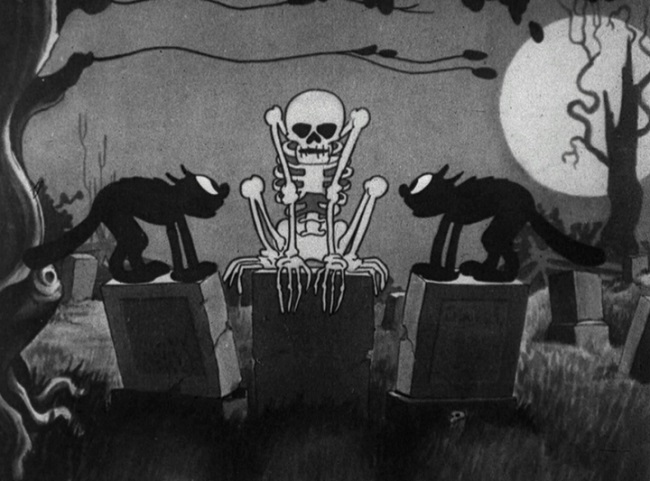 Looking for Halloween (or Halloween-weekend) viewing recommendations? Here's another proposed 24 hour marathon from Midnight Only, one to fit the season. Of course, rather than indulge in the whole exhaustive thing, you can simply take a film or two that strikes your fancy. Personally, my annual tradition has been to start as early in the morning as possible on Halloween and watch horror movies until I can't take it anymore (which has become earlier and earlier in recent years). And the first two films on this list were the first two films I watched last Halloween, plugged in here because they were the perfect way to kick off the day: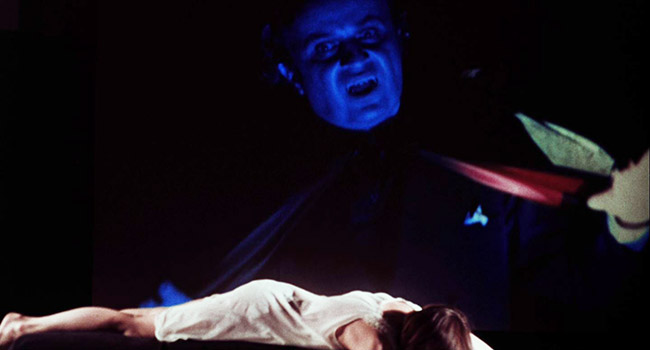 5:30am: Malatesta's Carnival of Blood (1973) D: Christopher Speeth
Virtually an underground movie, the bizarre, handmade, oddly titled Malatesta's Carnival of Blood was an utter obscurity before a mention in Stephen Thrower's Nightmare USA and finally a Blu-ray release from Arrow as part of their American Horror Project Volume 1 box set (it will soon be available for purchase individually). I'm picking this, and the start time of 5:30am, because that's exactly how I watched it last year – with the sky still dark outside and my head in a somewhat dream-like state before the coffee kicked in. This is a simple little horror movie, with amateurish acting (and an inexplicable Hervé Villechaize), but it's all about the atmosphere: Speeth shot in a real amusement park – on its rollercoasters, carousel, and Tunnel of Love – and built elaborate, surreal sets for the underground world beneath the park where its cannibals dwell, realms that look like a 60's hippie happening stained by a bad acid trip. A perfect movie to watch before the sun comes up and your head comes together.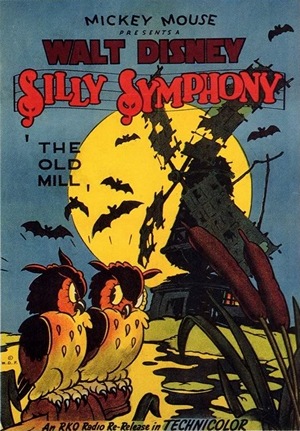 6:45am: Walt Disney's Silly Symphonies: "The Skeleton Dance" (1929)/"The Old Mill" (1937) D: Walt Disney/Wilfred Jackson
When I was growing up, my parents had the Disney Channel – the original, pay channel version, which was a treasure trove of classic animation and live action rarities. Perhaps as a result when I think of classic Halloween family programming, I think of old Silly Symphonies and Mickey Mouse cartoons. I still have a great love of classic Disney animation, particularly the fantastic run leading up to Fantasia. To fill this fifteen-minute slot I'm recommending two of Disney's Silly Symphony shorts which are available on YouTube. "The Skeleton Dance," animated by Ub Iwerks and directed by Disney himself, was the first of this series, and is exactly what it describes. Ever the innovator, Disney had this short animated to a pre-recorded soundtrack (instead of dubbing in sound after the fact). "The Old Mill," arriving eight years later when Disney had become a household name, was the first use of the multi-plane camera, a massive piece of equipment that added extraordinary depth to its layered images. This "day in the life" portrays the ecosystem living in a dilapidated windmill, and how it weathers a frightening storm that threatens to tear the mill to pieces.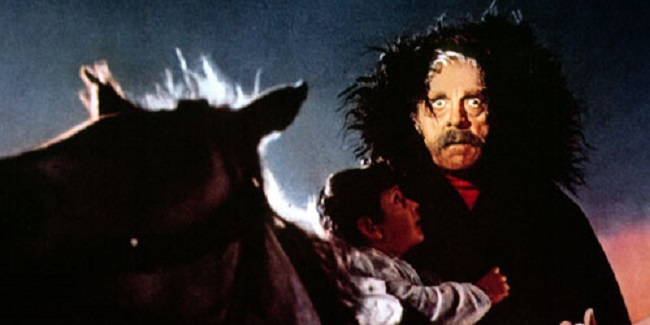 7am: Black Sabbath (1963) D: Mario Bava
Mario Bava's distinctively stylized, dreamlike cinema gets a Gothic workout in this anthology hosted by and starring Boris Karloff. The segments: in "The Telephone," a woman (Michèle Mercier) receives a series of threatening calls from her former pimp, escaped from prison. In "The Wurdalak," a Russian family contends with the titular ghoul, which may have bitten and infected Karloff's glowering character. In "The Drop of Water," a nurse (Jacqueline Pierreux) steals the ring from the corpse of an old woman and pays dearly for it. As far as horror anthologies go, this is one of the very best. Black Sabbath is available on Blu-ray in both editions: its original Italian-language cut, and the dubbed and rescored American release.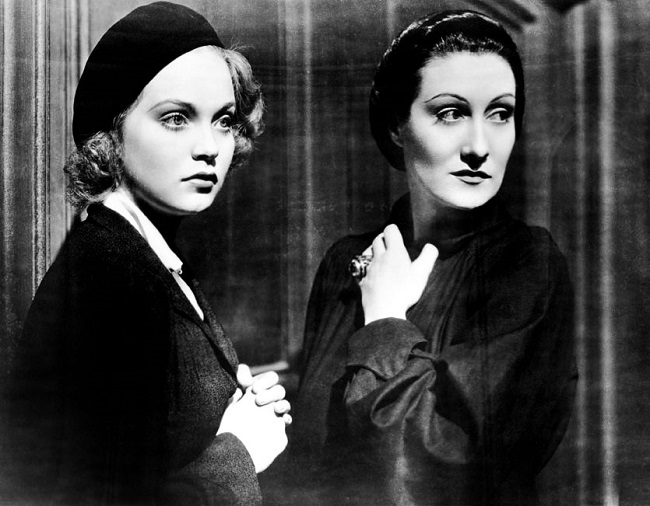 8:45am: Dracula's Daughter (1936) D: Lambert Hillyer
This belated Universal sequel to Todd Browning's Dracula (1931) is no classic, but it's striking and fascinating nonetheless. The original film's Van Helsing (Edward Van Sloan, who also appeared in The Mummy) is arrested for Dracula's murder(!). One of his former students, a psychiatrist (Otto Kruger), investigates Van Helsing's claims while falling under the spell of the Countess Marya Zaleska (Goria Holden) – Dracula's daughter, who wishes to rid herself of her vampiric appetites. In one scene the Countess indulges her appetites with a pretty girl (Nan Grey) whom she asks to model for her; the young woman seems to excite Zaleska in more ways than one. Irving Pichel is memorable as the Countess's servant Sandor. Decades later, Hammer would take a similar Van Helsing-led approach to a Dracula sequel with Brides of Dracula (1960); but in both franchises, the Count did not stay dead.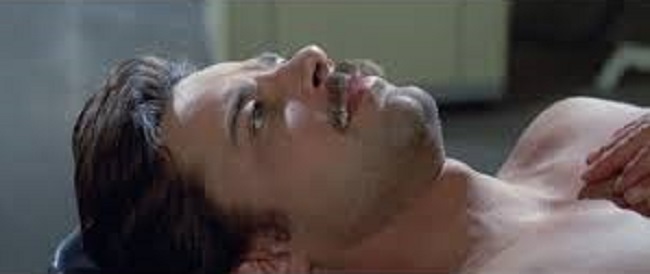 10am: Short Night of Glass Dolls (1971) D: Aldo Lado
In this eerie giallo, a man suffering from catalepsy (Jean Sorel) is mistaken for a corpse and taken in for an autopsy, to his horror. Meanwhile, the desperate stiff thinks back on the events which led him here – a Kafka-meets-Polanski mystery involving the disappearance of his beautiful girlfriend (Barbara Bach, The Spy Who Loved Me), the conspiracy of corrupt officials, and the discovery of a malevolent secret society. The score is by Ennio Morricone.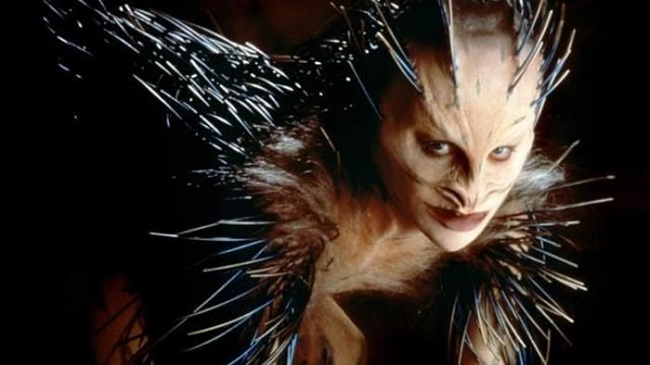 11:45am: Nightbreed: Director's Cut or Cabal Cut (1990) D: Clive Barker
After Hellraiser (1987), novelist/director Clive Barker embarked on Nightbreed, adapted from his novella Cabal. Subversively, the monsters are sympathetic and persecuted by a society that both fears and envies them. And yet, these shapechangers are still monsters – deadly to encounter and sometimes outwardly repulsive. Boone (Craig Sheffer) is framed for the crimes of his manipulative psychologist Decker (David Cronenberg, perfectly cast), who moonlights as a genocide-obsessed serial killer. But Boone is reborn as a member of the Nightbreed, an ancient race that resides below the cemetery called Midian. This film, featuring a fantastic Danny Elfman score, is one of the most ambitious horror movies ever made, rich with mythology and, yes, overstuffed, convoluted, and difficult to follow on a first viewing. No wonder that for its theatrical release it was edited to a shell of its former self. Though still flawed, a much more satisfying watch is offered through the Director's Cut (released by Shout Factory), featuring rediscovered footage and restoring subplots and character development, or the even longer Cabal Cut (145 minutes), offered in an extremely limited (and pricey) release on the Clive Barker website.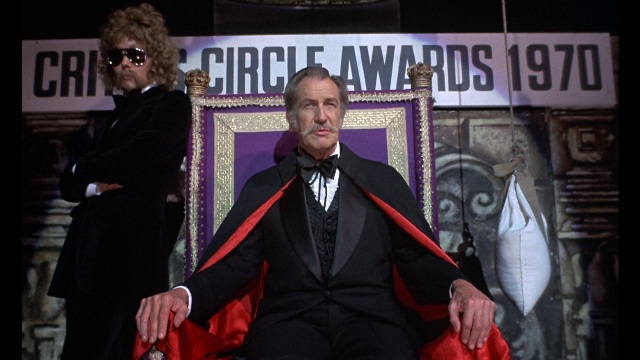 2pm: Theatre of Blood (1973) D: Douglas Hickox
The best of Vincent Price's 70's films is this Dr. Phibes knock-off with a wry appreciation for Shakespeare. Price plays a vain actor humiliated by his critics who fakes his death and returns to take his revenge, aided by a frequently disguised Diana Rigg (On Her Majesty's Secret Service). The plot may sound stale, but the Shakespeare references become a macabre delight for English or Drama majors in the audience, as we wait to see which play will form the next inspiration for an absurdly elaborate demise. Both Price and Rigg have a lot of fun with their roles.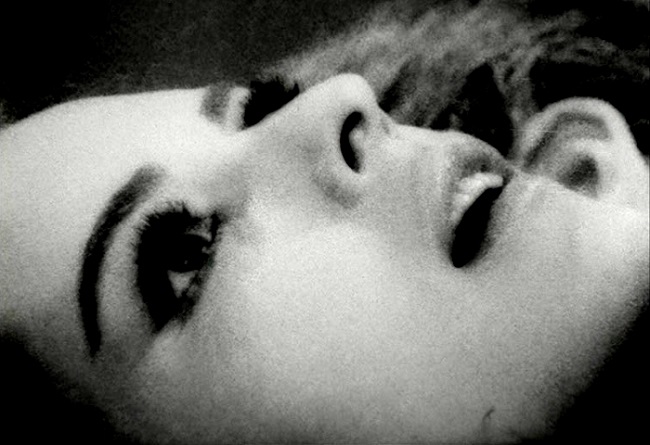 3:45pm: Vampir-Cuadecuc (1971) D: Pere Portabella
This experimental Spanish art film was shot on the set of Jess Franco's Count Dracula (1970), which starred Christopher Lee, Herbert Lom, Soledad Miranda, and Klaus Kinski. Portabella's film, though highly unconventional for a behind-the-scenes documentary, at the least provides a more visually stunning immersion into Bram Stoker's realm. This silent, 66-minute film, augmented by an avant-garde soundtrack, features high-contrast black-and-white images, at times evoking Murnau's Nosferatu, at other times approaching the abstract. Shot during Francisco Franco's oppressive reign, it also opens itself to political and allegorical interpretations of the ravenous Count. Fans of Lee will be interested in a reading from the climax of Dracula which the actor performs in his dressing room; we also see him popping out his contact lenses and being sprayed with cobwebs while lying in his coffin. A new 2K restoration has been playing the art house circuit and has just been released on Blu-ray in Region 2.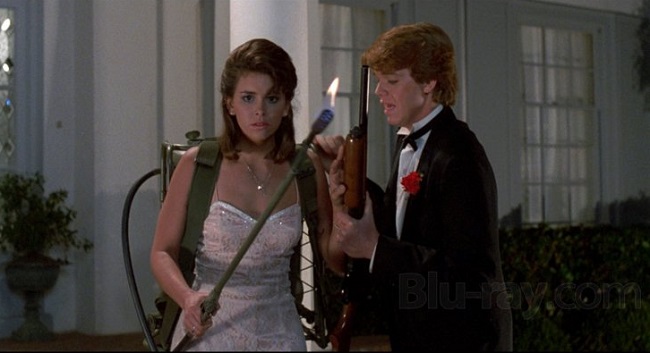 5pm: Night of the Creeps (1986) D: Fred Dekker
"The good news is your dates are here. The bad news is they're dead." This genre-hopping homage to 50's creature features from Fred Dekker (The Monster Squad) begins like War of the Worlds meets The Ghoulies, abruptly turns into a John Hughes-style teen comedy, then explodes into some very satisfying zombie horror. Along the way, Dekker manages unexpected character depth and warmth, particularly with the teen leads and Tom Atkins' tragedy-haunted police officer. I showed this at my annual horror movie party this year and more than one attendee noted the similarities to James Gunn's Slither (2006).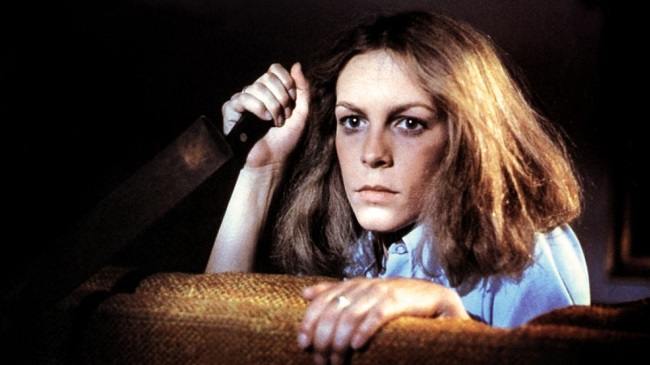 6:30pm: Halloween (1978) D: John Carpenter
Jaime Lee Curtis and Donald Pleasence face off against The Shape, Michael Myers, in what is arguably the apex of the slasher film genre. (My heart belongs to Bob Clark's Black Christmas, I'll admit, but that's for another holiday.) Apart from the almost unbearable suspense and the terrific performances, there are few films that capture the spirit of Halloween night so well, which makes it ideal viewing to kick off our evening programming. If you're watching these on Halloween, is there any better film to watch while trick 'r' treaters arrive?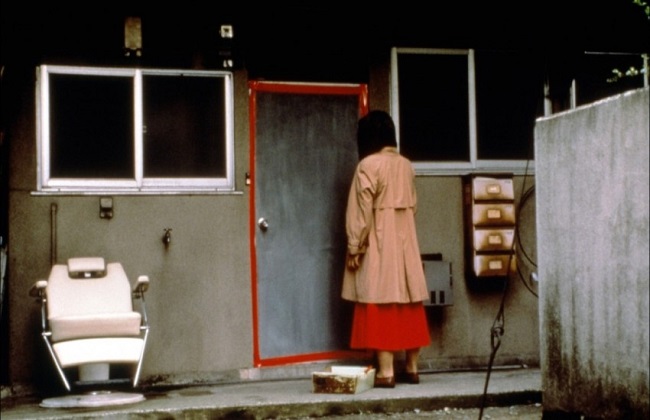 8pm: Pulse (2001) D: Kiyoshi Kurosawa
The most recent film of this list (and more recent than the films I tend to review on this site), I'm including it because it's time for some genuine scares, and Arrow has a new edition available on Blu-ray, so what better time to revisit one of the seminal works of the turn-of-the-century J-horror boom? I saw this in a dark, mostly empty theater a couple years after its Japanese release, and was so immersed in Kiyoshi Kurosawa's intense ghost story of the early Internet era that during one particular scene (if you've seen it, you know the one), I don't think I've ever been as freaked out while watching a movie. Turn the lights off and turn the sound way up.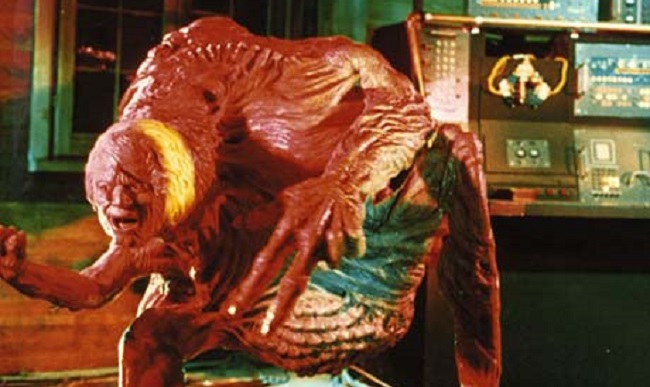 10pm: From Beyond (1986) D: Stuart Gordon
Immediately following the hit Re-Animator (1986), Stuart Gordon reunited cast members Jeffrey Combs and Barbara Crampton for another lurid, delirious adaptation of a lesser-known H.P. Lovecraft work. The original short story is cared for in its entirety in the prologue, leaving the rest of the running time for Gordon's imagination to let loose, expanding the concept of experiments in another dimension into a mad scientist tale of sexual liberation and grotesque physical transformations – with, of course, plenty of black humor.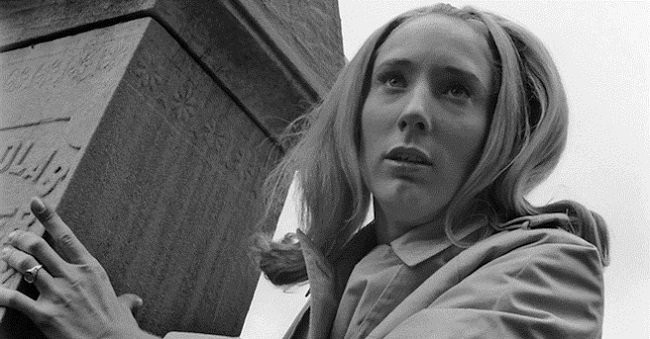 11:30pm: Night of the Living Dead (1968) D: George A. Romero
I wanted to include a tribute to George Romero, who passed away this year, and though there are lots of great films from which to choose, his classic, genre-defining Night of the Living Dead (1968) seems like the perfect choice – not least because there's a supposedly stunning 4K restoration playing now in select theaters. (Unfortunately we'll have to wait until next year – the film's 50th anniversary – for a Criterion release of this edition.) Even if you're watching in a more degraded version of this public domain film (my go-to is the old Elite DVD, autographed by Romero while he was preparing Land of the Dead), this is still an engrossing, nightmarish little movie. As Romero's characters barricade themselves into a house assaulted by flesh-eating zombies, then generate self-defeating conflicts all on their own, we're treated to one of the director's many microcosms of a contemporary society that's all too eager to consume itself into oblivion.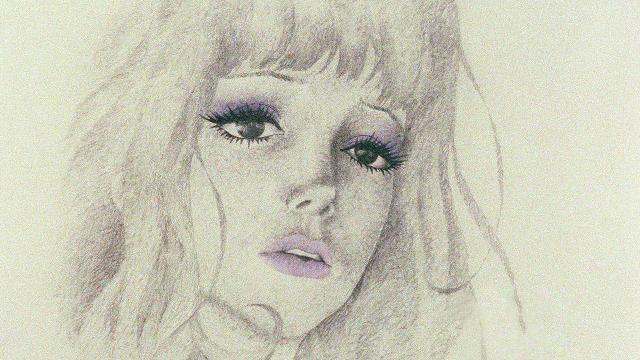 1:15am: Belladonna of Sadness (1973) D: Eiichi Yamamoto
The third part of the adults-only Animerama series of animated features initiated by Osamu Tezuka, this erotic horror film was made on a shoestring budget as Tezuka's studio was shutting down. Tezuka had already left, and production was overseen entirely by Eiichi Yamamoto. Told in beautiful sketches and watercolors, this transgressive fairy tale, adapted from a 19th century French history of witchcraft, La Sorcière, by Jules Michelet, tells the story of a woman who turns to a sexual demon to exact her revenge on the local lord and his army. Long obscure, in recent years a new restoration has brought the film onto the radar of animation fans, and in addition to being available on Blu-ray, it occasionally pops up on Turner Classic Movies as part of the late-night TCM Underground.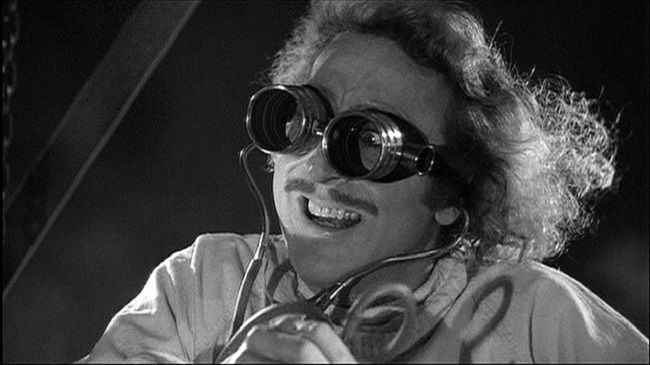 2:45am: Young Frankenstein (1974) D: Mel Brooks
A palate-cleanser after the grim Belladonna of Sadness, the hysterical Young Frankenstein (1974) is not just Mel Brooks' best film but makes a strong argument for being the last entry in the original Universal Frankenstein cycle (Brooks even used some of the original lab equipment from the original film's set). It's a loving parody which pays close attention to the original movies, in particular Son of Frankenstein (1939), to find perfectly timed gags amidst the Universal Horror verisimilitude. The late Gene Wilder, who co-wrote, has rarely been better, and it's also the perfect showcase for Madeline Kahn, Teri Garr, Peter Boyle, Marty Feldman, Cloris Leachman, Kenneth Mars, and Gene Hackman as the blind beggar.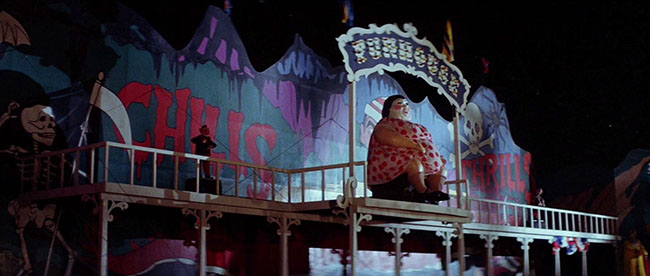 4:30am: The Funhouse (1981) D: Tobe Hooper
Bringing us full circle from the marathon's carnival (of blood) beginnings, our tribute to Tobe Hooper, who passed away in August, is this overlooked but effective horror film set in a carnival funhouse. Beginning with a parody of the famous opening from Halloween, Hooper continuously pays homage to the legacy of horror cinema (the principal villain is introduced wearing a Frankenstein monster mask) while rooting his characters in gritty reality; these could be real carnies, and real teens wandering into their world. In the third act, Hooper unleashes his trademark brand of insanity, but not before expertly laying out the actions which brought us there. It's a small film, but a reminder of what Hooper could bring to horror when he was at his most inspired.
Happy Halloween!